Rotary youth have learned about the importance of mangroves and their "impact on protecting shorelines and becoming habitats for breeding sea life."
A spokesperson said, "This weekend witnessed over 100 Rotarians descending onto Dockyard's shores to meet Bermudian Rotarians and Rotary youth of the Rotary Interact Club. The Interact students range in age from 12 to 18 years old.
"The international delegates, Rotary Presidents, and District Governors and Asst. District Governors, along with Rotary families and friends of Rotary, participated in a Maritime Symposium about conservation and preservation of mangroves on the Norwegian Joy Cruise ship. The project is both local and global.
"Rotary youth have learned about the importance of mangroves as they impact on protecting shorelines and become habitats for breeding sea life. They absorb greenhouse gases such as carbon dioxide. They are under threat worldwide and will be maintained in Bermuda by Rotarians, the community and youth from Rotary and other youth groups. The efforts will be sustainable
"Dr. Christopher Puttock, one of the chief leaders of the international project, is working towards acquiring a grant from Rotary International to preserve the at risk mangrove population.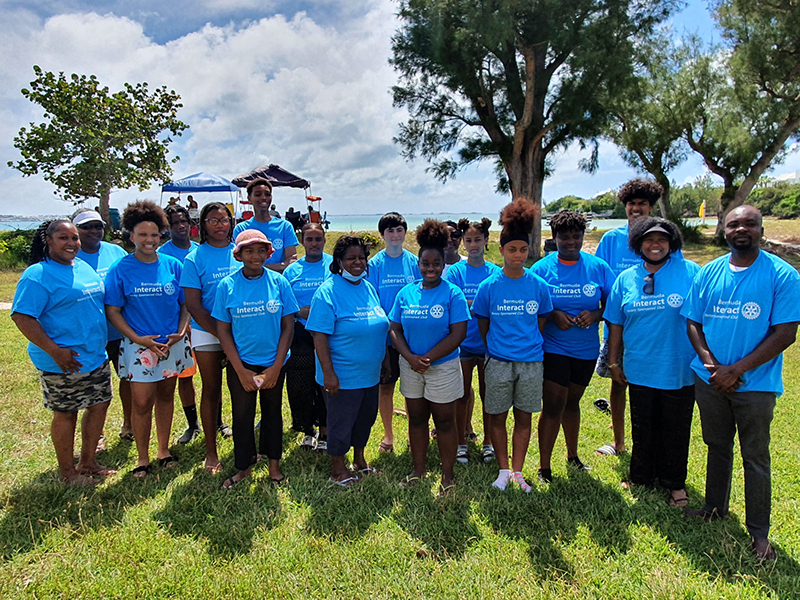 "The Rotary Interact Club members participated in preparation cleanups at Lagoon Park. This involved cutting and removing dense overgrowth leading to the mangroves and carrying cuttings to assigned areas. They collected rubbish buried in the bushes and made a clear path to the area destined for the grand planting which took place on September 3 with their new found Rotary friends from around the world.
"Students manned water stations, cleared up buried rubbish, helped to plant mangroves, cleaned up, and sifted sand to isolate tiny plastic particles on the shores of both Glass Beach and Parsons Beach as part of their community service and joined their new Rotary friends in celebration of a job well done.
"Skye Charles, Interact Media Director and Etienne Wolffe, Second Vice President, operated Skye's snowball stand business to raise funds for the purchase of a digital camera to capture events for the upcoming Interact website and newsletter proposed.
"Mrs. Joan K. Aspinall, retired Bermudian artist and author, donated her Bermuda books, prints and bookmarks to fundraising efforts of the Rotary youth and was a part of the mangrove initiative.
"The $300 raised from the sale of her books will go toward the Feed and boarding Initiative for ponies at Windreach Recreational Village, The therapy Ponies enhance the academic, physical and social development of students with special needs who are brought to Windreach in mini buses weekly from several schools, to receive therapy which is a part of their individualized Education Plans.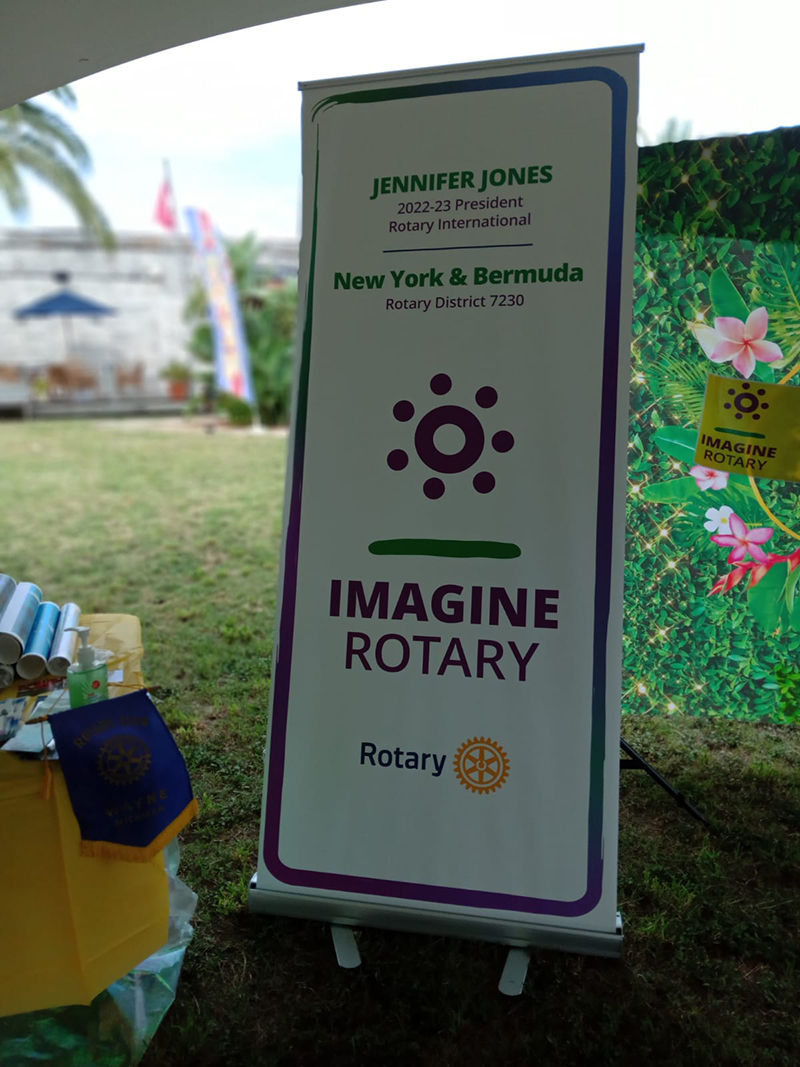 "Windreach has purchased a new pony from abroad, since the death of popular pony, Tilly..
"The Rotary youth have received numerous awards for several projects and service carried out throughout the year and during the summer. On September 1st at Horticultural Hall, District Governor, Martin Shulman presented awards and trophies to deserving Rotary Interact students and gifted every student with an Environmental Preservation tee shirt and matching cap.
"Etienne Wolffe, an Interactor from Warwick Academy was the guest speaker who delivered a brilliant thought provoking speech on human rights. He and First Vice President Nia Rene Outerbridge were the two students from District 7230 who were selected to attend an International Rotary Youth Convention in Winnipeg, Canada. They humbly accepted their Rotary pens and trophies with certificates and commendations.
"There are currently 25 youth in the Hamilton Rotary Interact club. They represent every public and private school on the island, as well as the home school network
"The Rotary Interact Club Executive members and board attended an organizational seminar recently at the Royal Hamilton Amateur Dinghy Club presented by Rotarian Darmell Jones and assisted by senior advisors, Rotarians Shammara Simmons, Katherine McDonnell and Cathy Bassett, Youth Director.
"The students will present the same seminar to their peers in the fall. This is part of the Rotary Youth Leadership Development programme.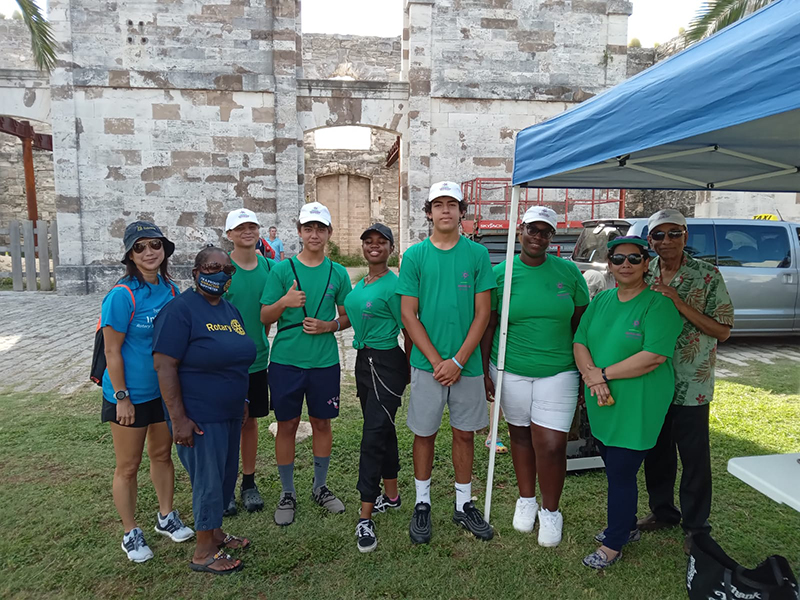 "One of the service projects will involve frequent visits to Lagoon Park to clean up the area and observe the growth of the mangroves over a period of time. They will hold a back to school barbecue and bonfire and donate square foot garden boxes to local senior independent living housing units in the community to encourage seniors to grow their own vegetables and herbs.
"Other projects involve ongoing KBB cleanups with corporate business partners and a carwash and book and bake sale. In addition to the pony project and the square foot garden initiative, the students will work with KBB to decorate large rubbish bins and investigate the need for additional litter receptacles in remote park and boating areas where much rubbish accumulates and often ends up in the ocean.
"Diamond DeShield, International Affairs Liaison is presently working with Rotarian Dr.Taka Mubara of Hamilton Rotary Club to engage her committee in funding the drilling and insertion of pipes with taps in rural villages in Zimbabwe, Africa. They will work with an Interact Club in Zimbabwe, where Dr. Mubara took a leadership role when he was a teen. The water harvest system will produce running water and cut down on the daily journey to rivers to collect water for family consumption, irrigating small gardens, and refreshing animals. This will enable girls to attend school more often.
"The 2022-23 Executive are as follows:
Nyesa Jones, President
Nia Rene Outerbridge, First Vice President
Etienne Wolffe, Second Vice President
Jack McDonnell, Secretary
Yann Pugi, Assistant Secretary
Joanna Santiago, Treasurer
Mya Armstrong and Rio Walker, Directors Fund Raising
Nyesa jones and Joanna Santiago, Directors of Social Relations
Nia Rene Outerbridge, Director of Community Service
Diamond DeShield, Director of International Affairs
Skye Charles, Director of Media and Public Relations
"Rotarian Ulric Richardson is President of Hamilton Rotary and Mike Dickinson is President of St. George Rotary Club. Both Rotary Clubs are sponsors of the Hamilton Rotary Interact Club."

Read More About
Category: All, Environment