The first ever St. George's Seafood Festival will be held this Sunday [Sept 18] with the BTA saying it will be a "showcase of Bermuda's rich seafood culture all supported by a strong lineup of local entertainment and thrilling activities for kids of all ages."
A spokesperson said, "The first annual St. George's Seafood Festival will debut this weekend as a signature event within the Great Sound Entertainment Series produced by the Bermuda Tourism Authority in partnership with the Government of Bermuda.
"The family-friendly event is geared to connect visitors with locals in a showcase of Bermuda's rich seafood culture all supported by a strong lineup of local entertainment and thrilling activities for kids of all ages.
"There will be no admission fee for entry to the Ordnance Island venue and patrons can purchase directly from over a dozen vendors. Both the island venue, and the adjacent town square will be completely pedestrianized for the event.
"The St. George's Seafood Festival, sponsored by the Corporation of St George and Gosling's, aligns with the ethos of the Great Sound Entertainment Series, which promotes a diverse line-up of local entertainment in unexpected venues around the island. This weekend's entertainment includes performances by acclaimed vocalists Jamie Zuill, and Cindy Smith, and the Set in Soul band with a set by Best of Bermuda winner, DJ Chubb.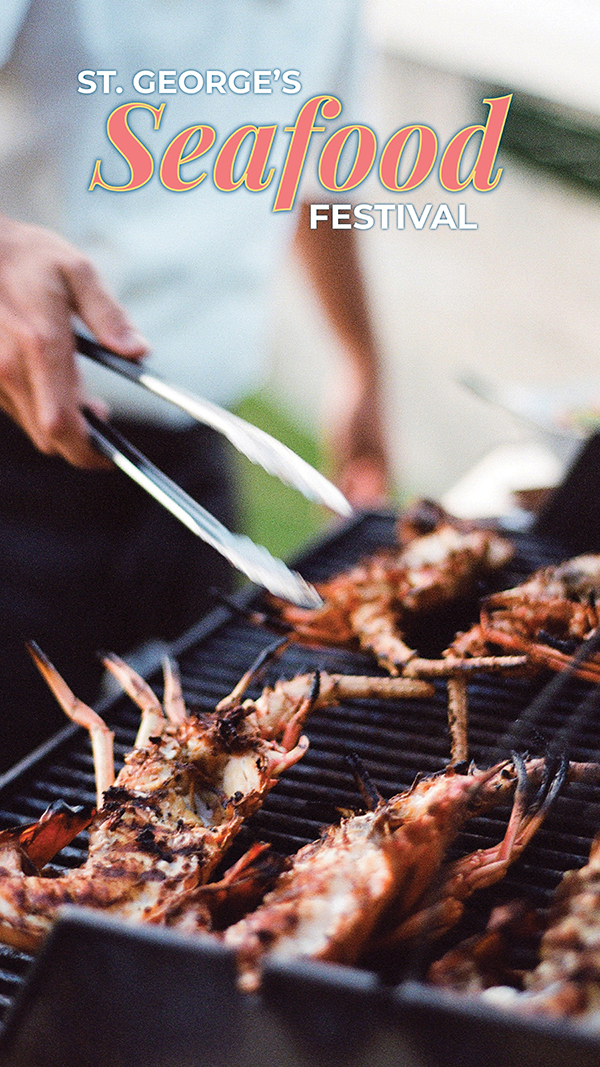 "And while entertainment is at the heart of the series, seafood will be the star of the show for the east end festival. Seafood boils, mussel dishes, traditional fish sandwiches, and the Bermuda Spiny lobster are just a selection of the mouth-watering menu items from Bonefish Grill, St. David's Seafood, Munches by the Sea, Sensational Delights, MP Chefs, Smuck's [formerly Country Kitchen] and more. Goslings, premium sponsor, and MYX.Z will provide cocktail and bar service.
"While Ashley's Lemonade, Duch Pops, Tru Sno, Lil Dippers, and Angel's Treats will round out the refreshment offerings at the festival. Patrons wishing to experience dishes from multiple vendors can purchase a sampler package for a personalised tasting menu.
"Families will welcome the Kids' Play Park, a five-thousand square foot village featuring fun castles, bumper cars, mini-golf, laser tag, face painting, and a thrilling zip line experience to entertain even the youngest guests."
Tashae Thompson, VP of Experiences, Bermuda Tourism Authority said, "Ordnance Island will be transformed into an outdoor oasis of food, entertainment, and fun. Our partners at the Corporation of St. George as well as our event partners, A-Rose Affair, have collaborated to produce what we expect to be an unforgettable, authentically Bermudian experience that will resonate with locals and visitors."
Tracy Berkeley, interim Chief Executive Officer, Bermuda Tourism Authority. "At the BTA we are guided by the pillars of our National Tourism Plan and the Great Sound Entertainment Series is no different. This series has created exciting opportunities to connect Bermuda's entertainment, hospitality, and entrepreneurial sector with our visitors, driving local engagement within the tourism industry.
"We're delighted that the St. George's Seafood Festival will inject an economic boost to the historic Town of St. George providing local merchants with additional foot traffic and commercial opportunities."
The BTA added, "Launched in mid-August with events scheduled until October 1, the Great Sound Entertainment Series has featured weekly live performances at outdoor locations, and on-the-water experiences, as well as supporting the expansion of the City of Hamilton busking programme. The Entertainment Series continues to deliver an array of musical experiences for both visitors and locals.
"This weekend's St. George's Seafood Festival and the upcoming Bermuda Swizzle Festival taking place on September 25 at Barr's Bay Park, will amp up the excitement with a fusion of entertainment and Bermuda's food and cocktail culture. Meanwhile, Saturdays at Woody's evening entertainment continues with performances by Paradise Band this Saturday and a weekly lineup of entertainers running until October 1.
"The St. George's Seafood Festival will take place on Sunday, September 18 from noon to 7 pm on Ordnance Island. General admission to the event is free. The VIP lounge experience is fully subscribed, and tickets are no longer available."

Read More About
Category: All, Business, Entertainment, News