WindReach recently received donations allowing them to add three new therapy ponies to their therapeutic riding programme.
A spokesperson said, "WindReach will be celebrating 50 years of therapeutic riding in Bermuda next year and has received an early gift of three new therapy ponies. The addition to the therapeutic riding herd will allow an increased programme capacity of 35%.
"The full cost of the funding of each pony including; air freight, pre- purchase vet exams, tests, vaccinations and health certification for flying, transportation within the USA, board at USDA Inspection Facility and duty was generously given by individuals and corporate donors.
"Donors included Kirk Kitson and his wife Judy, together with his brother Richard, Sompo International, Philip and Eileen Thorne, family and friends of the late Phil Talbot, and Mark and Tina Nash, along with all those that supported their Peaks For Ponies fundraiser."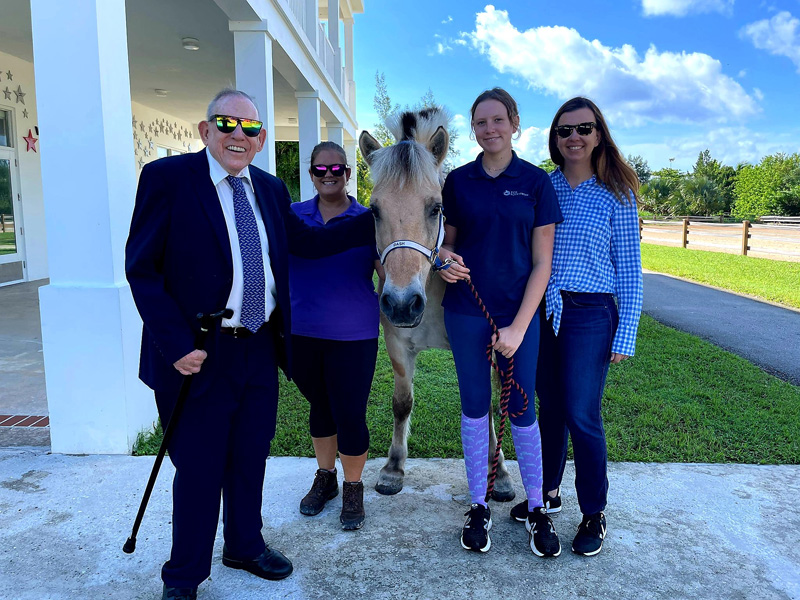 Samantha Hillier, Therapeutic Programme Manager at WindReach, said, "Thank you to everyone who made this happen. It was so great to have the donors come to WindReach to meet the new ponies. They're such an amazing addition to our programme.
"We've had a waiting list to get into the therapeutic riding programme for a few years now and these three new ponies will mean that we're able to provide this wonderful programme to so many more of our participants. We are also really excited to start our big celebrations next year for our 50th anniversary of therapeutic riding here in Bermuda.
"It's huge for Bermuda as we're only a few years behind the Riding for the Disabled Association in England; they just celebrated their 50th in 2019."
The spokesperson said, "The Kitson families were thrilled to be able to support WindReach by donating the funds to purchase Dash, who will also formally be known by his show name 'Dashingly Different of Kitson'."
Richard Kitson, Regional Director of the Society for the Advancement of Travel for the Handicapped, said, "I was born with learning differences and physical disabilities at a time when we didn't have facilities like WindReach and it was challenging growing up different to others. That said, I have always believed that we must do the best we can with what we have.
"I really hope that Dash provides joy and inspires others to overcome their challenges to achieve their full potential for a happy life, and to embrace their differences in a positive way."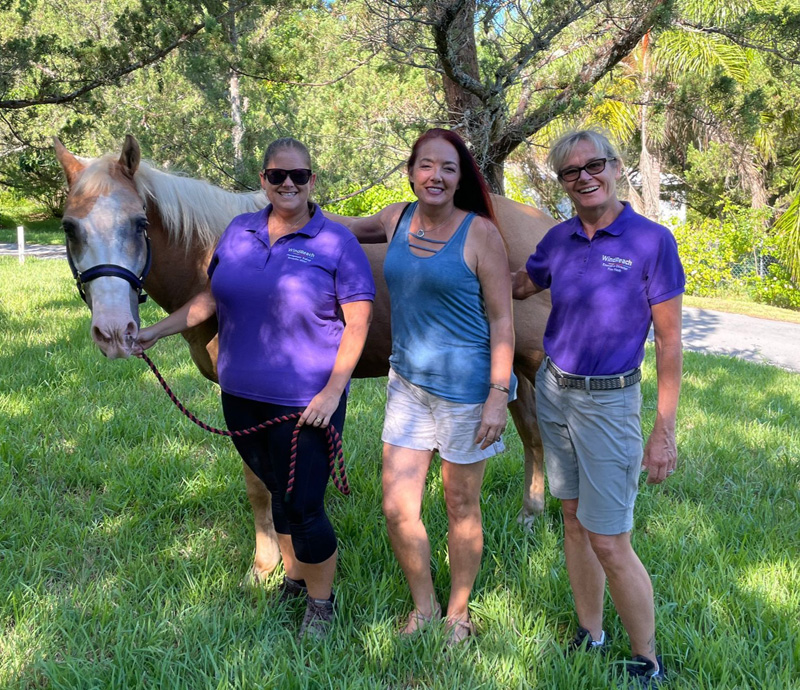 Judy Kitson said, "For many years, I volunteered for the Riding for the Disabled programme and understand first-hand the life changing impact that WindReach has on the lives of those who participate. Our family is excited to be able to support the incredible work of the WindReach Programme."
Alana Anderson, Vice President and Head of US Mortgage Reinsurance at Sompo International, said, "WindReach has always been an organisation that we have felt provides tremendous benefit to a very diverse section of the community. The therapeutic riding programme is exceptional.
"The fact that there is a focus on persons with special needs just reinforces to us that anyone with any ability should have access to programmes and activities. We are proud of our contribution and hope that this will benefit WindReach for many years to come."
The spokesperson said, "The therapy animals at WindReach are an integral part of their programming. WindReach is certified by the Canadian Therapeutic Riding Association [CanTRA]. A well-trained therapy horse moves in a rhythmic, symmetrical and organized way. Each step the horse takes provides strong sensory and physical input in many dimensions including up and down; side to side; and back and forth. By asking for variations in these movements, the instructor gains results that cannot be achieved by a machine or duplicated in a clinical setting.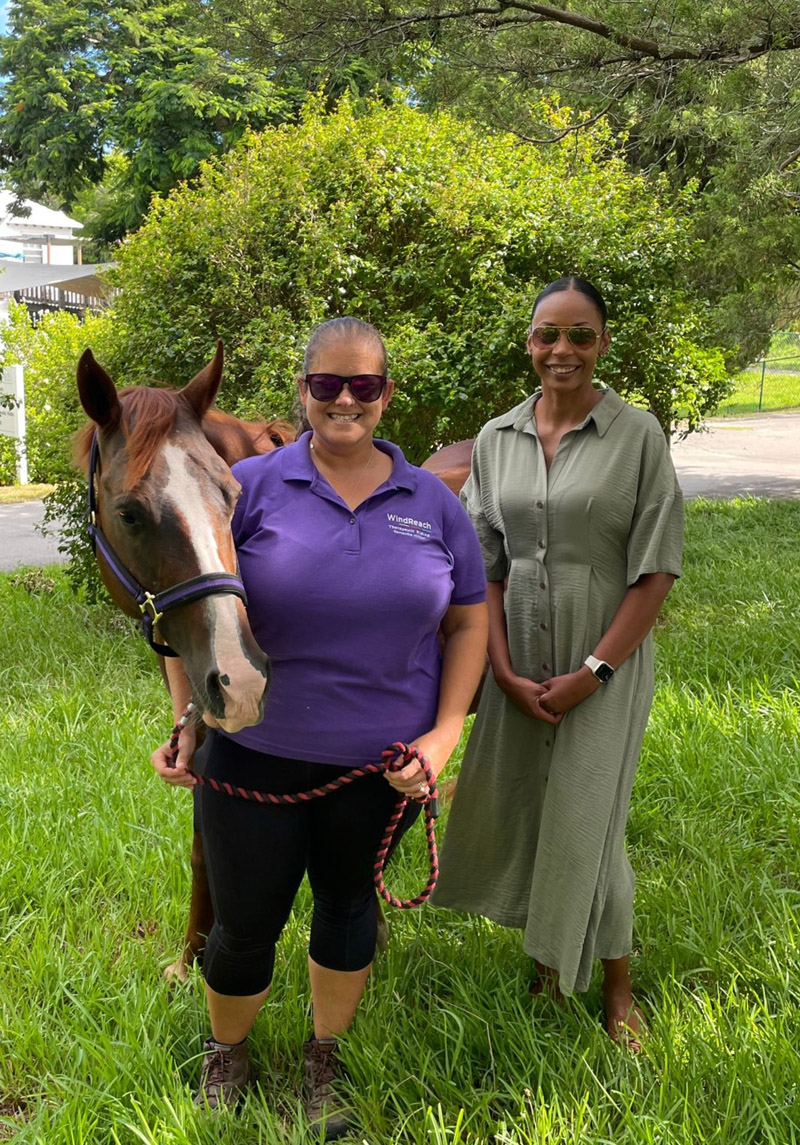 "The new ponies' ages range from 10-13 years. A therapy pony can be a working pony for most of their life. WindReach has had great success in the health and care of their ponies. I.A.W.C Sand Dust – 'Dusty' and Amazing Grace of Glasglow – 'Tilly' both were endeared by many throughout their combined 36 years at WindReach, before their recent passing.
"The participants that they helped, visitors, volunteers and staff of WindReach miss them and are looking forward to the legacy of the therapy animals at WindReach being continued with the latest additions. When donating towards a therapy animal, donors are giving a gift that keeps giving for years to come and there are many individuals living with disabilities that will benefit.
"Mrs. Tina Nash, Executive Director of WindReach was so compelled to combine her love of hiking with her love of philanthropy and challenged herself to hike a combined total of 30,000 ft over 41 peaks in the Lake District of UK in support of the cost of one therapy pony. She, along with husband Mark, were able to not only reach their fundraising goal of $27,500 but surpassed it with the help of donations received from 104 donors during their Peaks for Ponies Fundraiser."
Mrs. Nash said, "We are so appreciative for the incredible support and encouragement we receive from the community each and every day. Having such a diverse group of companies and people come together to help WindReach make this dream come true, is truly touching and very much appreciated. Having our therapeutic riding stables at full capacity means we can serve more people and continue to support the quality of life for people living with special needs and disabilities.
"That's what we do at WindReach, and we are very proud of that."
Read More About