The Ministry received 2,916 test results — spanning 7 days — and 66 were positive, so there are now 75 known active cases, of which 1 person is in hospital.
A Government spokesperson said, "Since the last update, the Ministry of Health received 2916 test results, and 66 were positive for the coronavirus, giving a test positivity rate of 2%.
"These results are from testing done on:
Tuesday: 10 positive out of 499 results [2.0% positivity]
Wednesday: 19 positive out of 508 results [3.7% positivity]
Thursday: 8 positive out of 497 results [1.6% positivity]
Friday: 10 positive out of 474 results [2.1% positivity]
Saturday: 5 positive out of 179 results [2.8% positivity]
Sunday: 8 positive out of 307 results [2.6% positivity]
Monday: 6 positive out of 452 results [1.3% positivity]
"38 of the new cases are classified as imported.
"The additional 28 new cases are classified as either local transmission [10] or under investigation [18].
"Additionally, there were 28 recoveries and 0 deaths.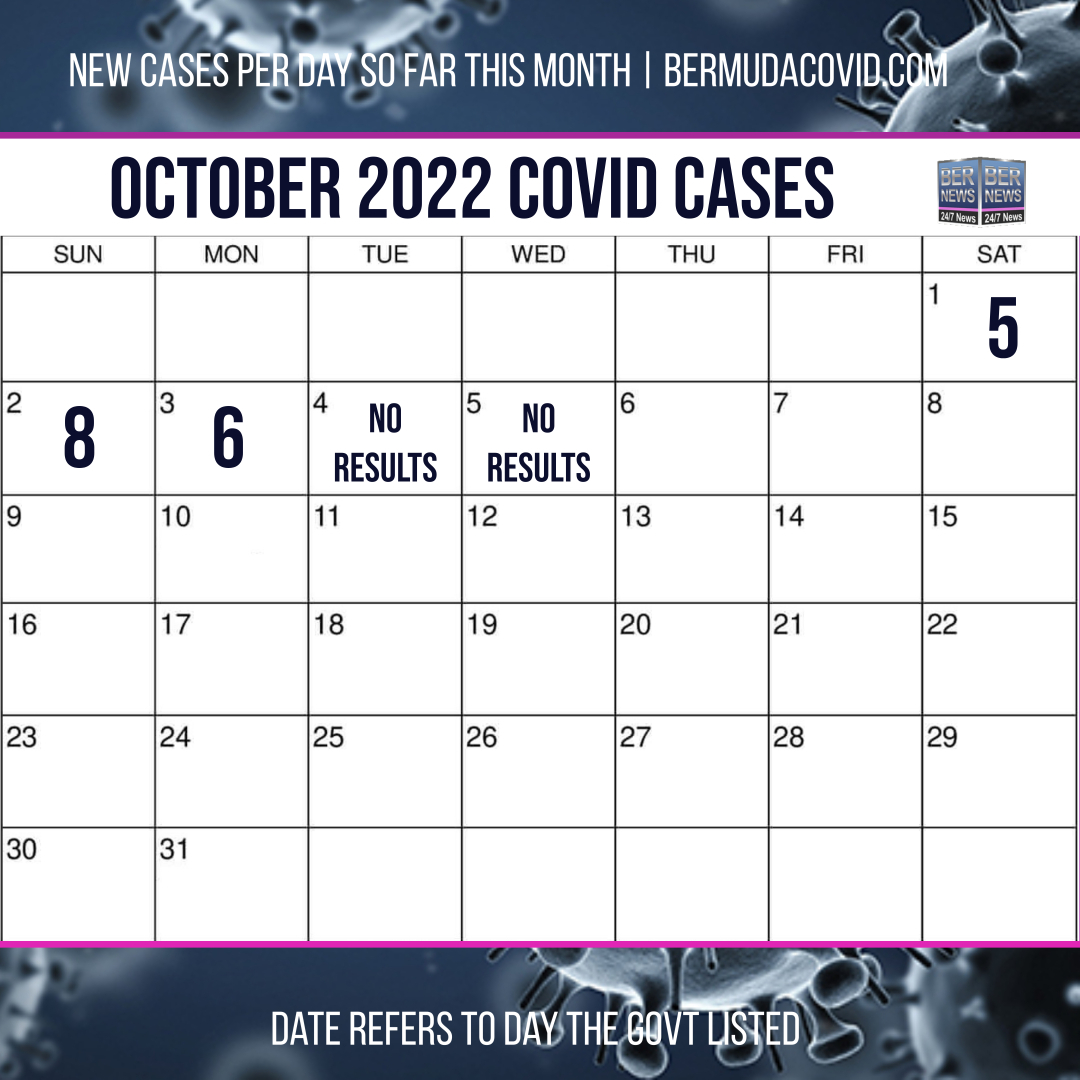 "There are 75 active cases, of which:
74 are under public health monitoring; and
1 is in hospital, with 0 in intensive care.
"Since March 2020, Bermuda has recorded 18,220 coronavirus cases, out of which 17,922* have recovered, and sadly there have been 148 coronavirus-related deaths.
"The source of all active cases is as follows:
41 are Imported
12 are classified as local transmission
22 are Under Investigation
"The source of all confirmed cases is as follows:
4130 are Imported
14024 are classified as local transmission of which:

5932 are Local transmission with known contact/source and
8045 are Local transmission with an unknown contact/source

73 are Under Investigation
"As investigations proceed, transmission categories may change. For age distributions and overall transmission categories, please refer to https://www.gov.bm/coronavirus-covid19-update. The seven-day average of our real-time reproduction number is 0.48.
"For information regarding other conditions being reported to the Epidemiology and Surveillance Unit, please refer to https://www.gov.bm/health-information.
"Minister of Health, Kim Wilson is reminding the public that as of 3 October 2022, the mask mandate was amended to only apply to health service facilities, rest homes and Corrections facilities. For those using public transportation, taxis, minibuses and limousines, and those working at or passing through the airport, mask-wearing is now optional.
"As of 25 October 2022, the requirement for pre-arrival or pre-departure testing, arrival testing, and day 4 testing for travellers will end. The requirement for unvaccinated visitors to provide proof of health insurance which covers Covid medical expenses will remain.
"As of 30 November 2022, all mask mandates and border controls related to COVID-19 will end."
Minister Wilson said, "We still recommend that people with medical vulnerabilities continue to wear masks if physical distancing cannot be maintained.
"Although mask mandates have been significantly relaxed, the virus can spread in crowded settings. You should consider wearing a mask in crowded places where you cannot maintain an appropriate physical distance of 6 feet [2 meters] from others not in your household or whose immunisation status is unknown."
*Bernews Note: You will see a numerical difference in the Bernews charts and the Government statement as far as recovered, as Bernews adjusted it to what our own extensive record keeping indicates is the figure

You can find more information on the links below from our dedicated website BermudaCovid.com, which is the most comprehensive resource and historic record available of Bermuda's handling of the pandemic.
Read More About