Jessica Lewis, Bermuda's three-time Paralympian, has partnered once again with WindReach Bermuda, to host the Rolling for WindReach challenge.
A spokesperson said, "This year the event will be hybrid and take place October 30th – November 5th. Participants are invited to complete 22 miles of an activity of their choosing in support of WindReach's Educational and Therapeutic Programmes. Participants are also invited to join in on the 'Last Lap,' in person at Clearwater and Cooper's Island."
Ms. Lewis said, "I am looking forward to another successful event with the third annual Rolling for WindReach. This year will be extra special because it is the first time we will be able to host an in-person portion as well as virtual. WindReach provides so many amazing benefits to such a wide variety of people and our community as a whole, so it's a pleasure to once again be a part of giving some of that support back to them."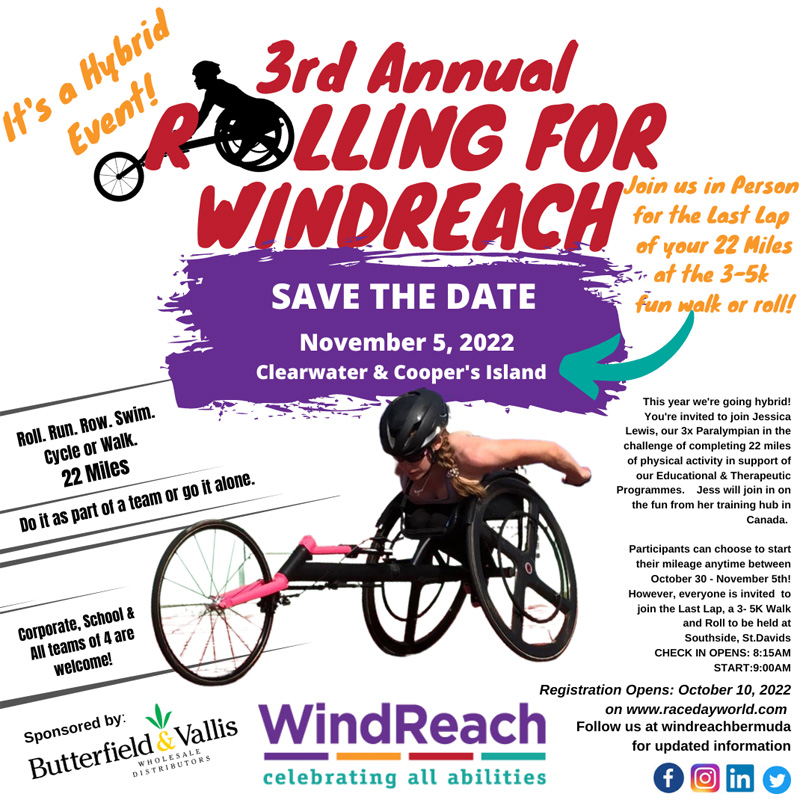 Tammalita Joseph, Fund Development Manager stated, "We are grateful to Jessica and Butterfield & Vallis for their continued support. One of WindReach's core values is inclusion. We believe in sports for all and would love to see people with diverse abilities participate.
"We invite people in wheelchairs, push chairs, cyclists, parents with their baby joggers, and all types of mobility devices to join us at the last lap of the 22 mile challenge which will be held starting at 9am on November 5th, 2022. We have volunteers on hand for wheelchair and push chair users if assistance is needed. We ask for some notice so we can pre-arrange such help."
Ms. Joseph continued, "Participants can track their progress on our event page at Race Day World, take photos and tag us in them with our social media handle – windreachbermuda. We encourage corporate teams, business groups and others to register and help support WindReach's educational and therapeutic programmes."
The spokesperson said, "The first 150 registrations will receive an event T-Shirt. Registration for the event is now open here. Please note that donations can also be made via online transfer to our HSBC account – WindReach, 010-857621-001. Reference R4W. For more information visit us at www.windreach.bm or search for WindReachBermuda on Facebook, Instagram & LinkedIn."

Read More About