Paralympian Jessica Lewis has partnered with WindReach Bermuda to host a '28 Mile Challenge' which will help raise funds for the organisation.
A spokesperson said, "Jessica Lewis, Bermuda's two-time Paralympian has partnered, once again, with one of her favourite nonprofits, WindReach Bermuda, to host a 28 Mile Challenge.
"Jessica is inviting everyone to celebrate her 28th Birthday with her by helping to raise funds for WindReach. She is rolling 28 miles for 28 years and doing all of this while maintaining her rigorous training for the Paralympic Games in Tokyo, Japan.
Ms Lewis said, "I couldn't think of a better way to celebrate my birthday than to kick off this challenge to support such an amazing and important organisation here in our community.
"I was so thrilled with how last year's event turned out, thanks to all those who participated and/or donated. I can only see it being bigger and better this year.
"The staff at WindReach put their heart and souls into the work they do every day to enhance the lives of people with disabilities, including mine. Because of that, it was a no-brainer to me to team up with them again for the second annual Rolling for WindReach to give back, even just a little of what they give to me and others."
Tammalita Joseph, Fund Development Manager, stated, "Jessica was the brain-child behind a very successful Rolling for WindReach last year. With the community's support, we were able to raise in excess of $15,000.
"Last year's event was held just as Bermuda was feeling the initial impact of Covid-19 and we were gradually emerging out of shelter in place. We had not quite gotten use to our new virtual norm and now it would seem that events, as we knew them, have changed for the unforeseeable future. With this in mind, it was determined that we would host this year's event virtually, as well."
"The event will run from April 3rd – May 1st, and individuals have the entire period to complete the 28 miles. The total mileage can be completed by an individual or as a team. The first 150 registrations will receive an event t-shirt.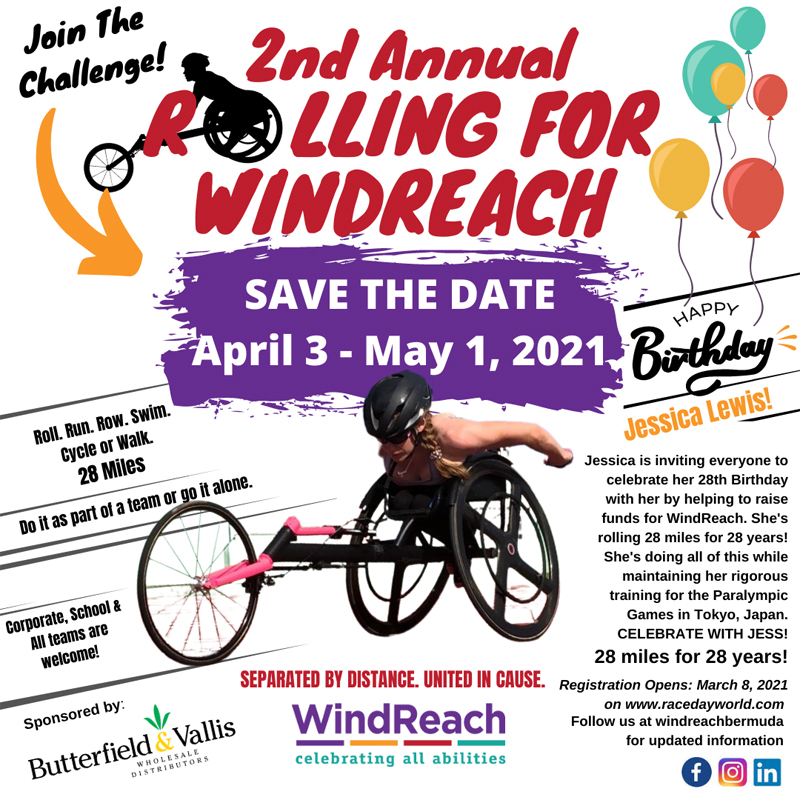 Mrs. Joseph continued, "It's so exciting to hear of groups that are planning to register and complete a total of 280 miles! Participants can track their progress on our event page at Race Day World, take photos and tag us in them with our social media handle – windreachbermuda.
"We are very grateful for our sponsor, Butterfield & Vallis, and we encourage corporate teams, business groups and others to register and help Jessica to celebrate her 28th birthday, whilst supporting WindReach's educational and therapeutic programmes."
"Please note that donations can also be made via online transfer to our HSBC account – WindReach, 010-857621-001. For more information visit us at www.windreach.bm or search for WindReachBermuda on Facebook, Instagram & LinkedIn."

Read More About