On Thursday [Nov 3], Dame Flora Duffy will be at Gosling's on Front Street to meet people and sign bottles of the Goslings Flora Gold Rum, which to date has raised over $30,000 to support young Bermudian athletes.
A spokesperson said, "Last year Gosling's Limited collaborated with Bermuda's first Olympic Gold Medalist, Flora Duffy, to create Goslings "Flora Gold" Bermuda Aged Rum. The ultimate goal of the release was to celebrate Flora's marvelous achievements and to give back to the local community with a donation on every bottle sold to the Flora Gold Fund.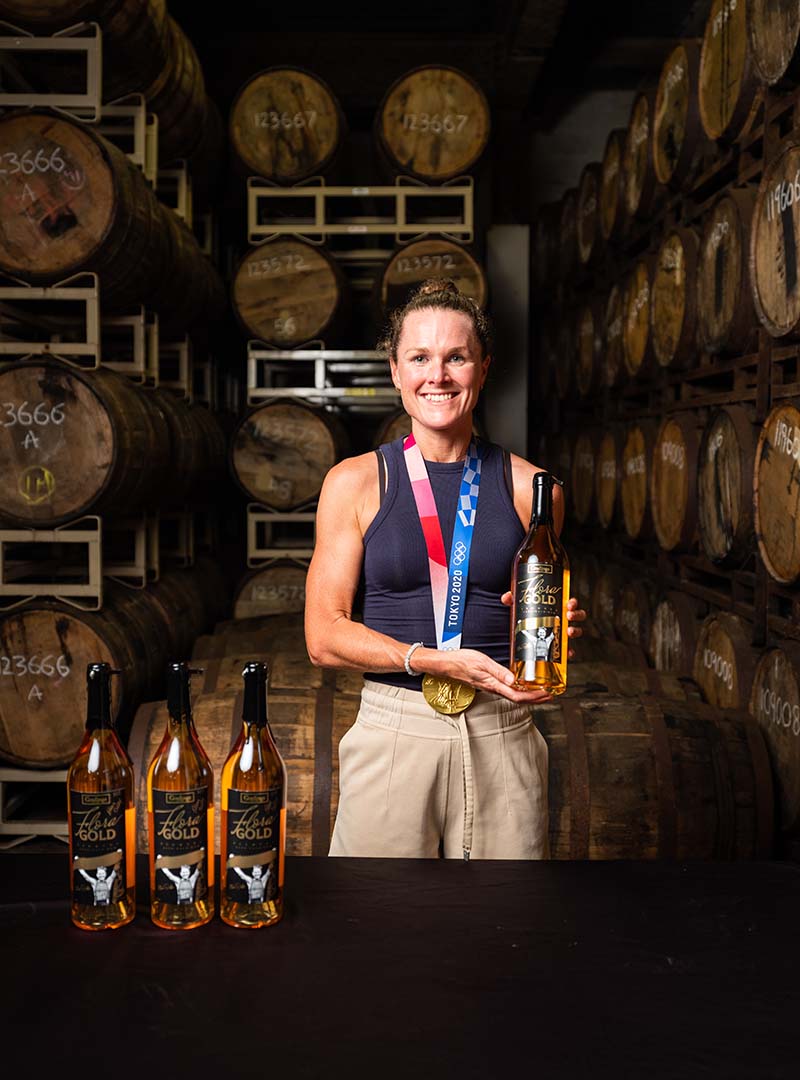 "Established by ITU World Champion Triathlete, Commonwealth Games and 2021 Olympic gold medalist, Flora Duffy, The Flora Fund and the Flora Gold Fund [endowment] aim to enable aspiring youth in Bermuda to achieve their full potential by providing funding support not limited to but including: equipment, travel, training fees, event registration fees, and coaching. All towards the development of the skills and attributes needed to achieve excellence in sport – which will have a positive impact for the community of Bermuda.
"Gosling's Limited is proud to announce that a total of $30,280 has been raised through the sales of Goslings Flora Gold Rum to date."
"We are thrilled to surpass $30,000 in contributions to The Flora Gold Fund. In celebration of Flora's return to Bermuda we are excited to offer a special price of $49 for the month of November. Gosling's Limited will still maintain the donation of $5 on every bottle sold," said Malcolm Gosling Jr, VP Goslings Export [Bermuda] Limited.
The spokesperson said, "This week Dame Flora Duffy returns home to Bermuda to compete in the World Triathlon Championship Series with hopes of winning a record fourth world title. While the focus will be on the race, Gosling's and Flora want to thank everyone who has shown support to The Flora Gold Fund. On Thursday, November 3rd, Flora [and her gold medal] will be at the Flagship Gosling's Wine and Spirits store on Front Street to meet guests, sign bottles, take photos, and sample Goslings Flora Gold Rum from 5:30pm-6:30pm.
"Today also marks the start of the Goslings Flora Gold Rum Cocktail Competition. Gosling's has invited bars and restaurants throughout the island to create their best tasting cocktail using Goslings Flora Gold Rum. Patrons will be able to vote for their favourite on the Goslings Limited website, a QR code will also be displayed on the menu at all the participating establishments linking directly to the voting page.
"The winning bartender will receive a $1000 donation in their name to the Flora Gold Fund. Additionally, the winners along with one lucky voter will receive a behind the scenes tour of Goslings Rum followed by a lunch and rum tasting hosted by Flora Duffy. Over 20 bartenders from 17 different establishments have entered in the competition. For a complete list of participating bars and restaurants visit here.
"Gosling's encourages everyone to come out this weekend and cheer on all of the Bermudian athletes competing this weekend!"
Read More About