The Bermuda Netball League Season continued on Tuesday [Nov 15] with a number of matches taking place.
A spokesperson said, "NVCC Lady Rams had control of the match from start to finish, showcasing their experience over a newly formed St. George's Lady Colts team. Darrika Simons and Coriah Simmons demonstrated near flawless shooting, while Victoria Clarke showcased her defensive skills with numerous interceptions in St. George's attacking third.
"The performance was a total team effort, however, Jada Richards was crowned MVP for the Lady Rams for her attacking and defensive dominance throughout the game at C and GK. St. George's Lady Colts showed periods of good play with the defensive positioning of Tina Wall for some excellent interceptions. MVP for St. George's was Dru Bascome.
"The 2nd match featured Phoenix Heat and Docksiders. In the 1st quarter Docksiders were competing toe to toe in the midcourt with the 2021/22 Champions. However, the dominance of shooter Danielle Raynor still had Phoenix leading at the end of the quarter. The remainder of the game saw Phoenix switch gears with the defensive pair of Chelzea Somner and Kiante Lighbourne denying Docksiders any momentum in their attempts to feed their shooters.
"On the contrary, Ayanna Wolfe took control of the attack for Phoenix Heat with swift movements in the midcourt to open up the channels to easily feed their shooters. Kiante' Lightbourne was MVP for Phoenix Heat while Briar Bransfield took MVP honours for Docksiders."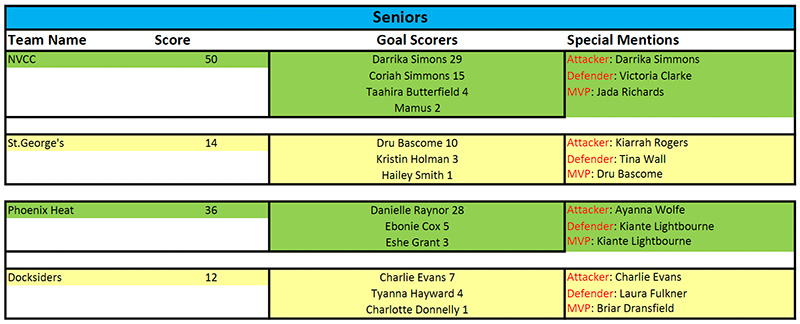 Read More About