Deloitte Bermuda has donated $25,000 to assist 13 Family Centre families, providing them with "an all-inclusive holiday experience."
A spokesperson said, "Deloitte staff, who split into thirteen teams, used the money to purchase gifts, such as fidget toys, toy trucks, puzzles, coloring books for the children, and stocking stuffers for every member of each family.
"In addition, Deloitte purchased gift cards for each family for groceries, BELCO, and a holiday feast.
"Family Centre is an accredited non-profit dedicated to improving families' lives in Bermuda. They provide innovative, free of charge mental health counselling services for children, teens, and their families, community outreach programmes, and advocacy initiatives.
"Family Centre is committed to ensuring access to support without barriers. Family Centre facilitates healing, hope, and connection to strengthen families and create a healthier Bermuda for our children."
Susan Richardson, Director of Counselling Services, Family Centre, and Dr. Sandy De Silva, Executive Director, Family Centre receive gifts for 13 families in the Family Centre 'Adopt A Family' holiday initiative: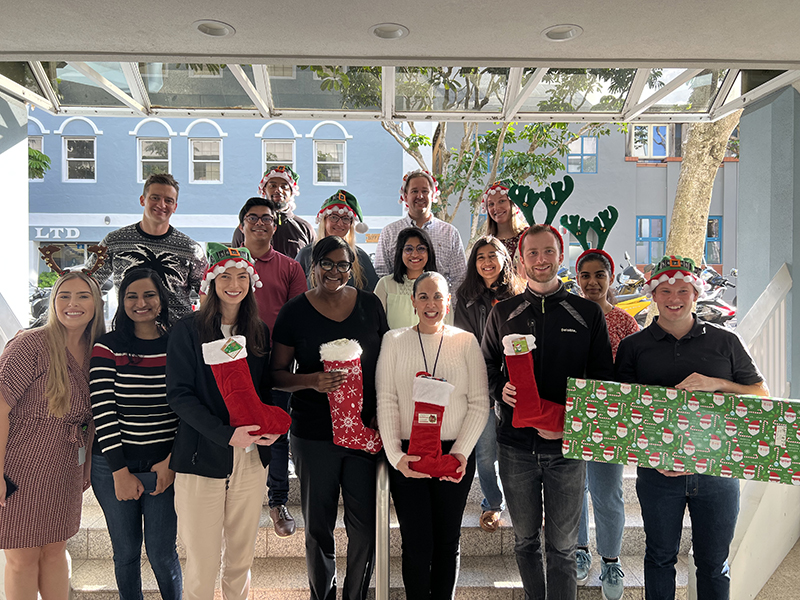 The Family Centre's Director of Counselling Services, Susan Richardson, said, "We are very thankful for Deloitte's ongoing support for our families in need. Our families have also already expressed words of gratitude and appreciation. The Family Centre Counselling Team recognizes that Deloitte has been extraordinarily generous to our families experiencing financial hardship during the holiday season. We truly believe that Deloitte is making a significant difference, and the Family Centre values this support tremendously."
Jimmy Caplice, Partner & Co-Chair of the Corporate Social Responsibility Committee, said, "The Family Centre's "Adopt A Family" program directly aligns with the Deloitte WorldClass initiative and allows our team to make an impact here in Bermuda. Annually we divide our entire staff into groups who are assigned to purchasing presents for one family each.
"The teams enjoy working with the wish lists and are keen to find the best presents, which has created a friendly rivalry. Our training room was filled with laughter and cheer as everyone compared their toy trucks and buses, dolls, art supplies, sporting gear, and board games, before wrapping them for delivery.
"One team even went the extra mile and wrapped their gifts in Spiderman wrapping paper, which was on the wish list of one of the children – it was great to see."
Deloitte CEO John Johnston said, "Being a part of the Family Centre's 'Adopt A Family' program has become a welcomed holiday tradition here at Deloitte. The partners and staff of Deloitte Bermuda feel honoured to bring some relief to families for the fourth year in a row. We applaud the Family Centre for its significant work in Bermuda, and especially this program, which helps to spread joy throughout our community."
The Family Centre's Executive Director, Dr. Sandy De Silva, said, "We are extremely grateful for Deloitte's continued generous holiday giving for families in need. Deloitte supports multiple families in need through providing vouchers to meet basic needs such as purchasing food and electricity as well as providing gifts for children and teens.
"The family recipients are filled with gratitude when receiving this kindness. On behalf of Family Centre's staff and family recipients, I want to thank Deloitte for their immense generosity during the special holiday season and for their partnership in helping to meet our mission of facilitating healing, hope, and connection to strengthen families and create a healthier Bermuda for our children."

Read More About