The Government has issued a "Marine Board [Control Over Maritime Traffic] [No.7] Notice 2022" for the Christmas Boat Parade on Sunday evening [Dec 10] and the official notice includes a map of the route, as printed below.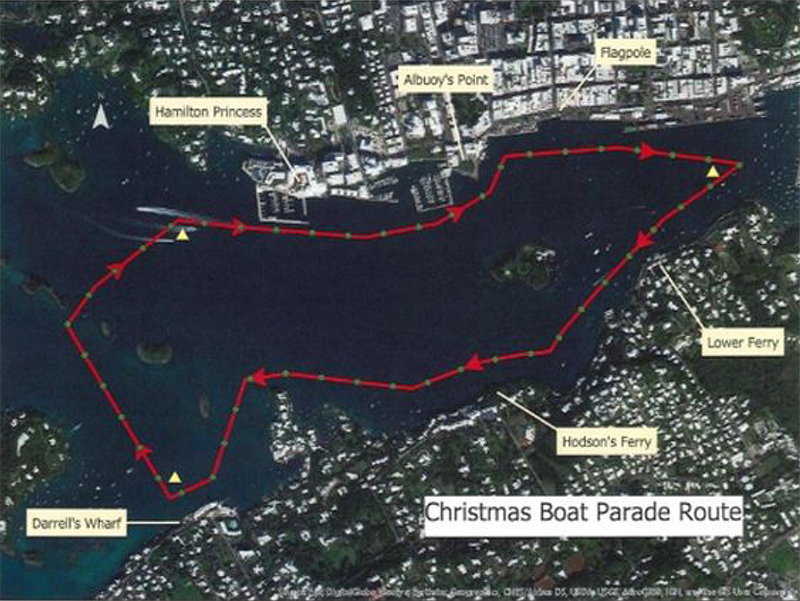 The notice notes that the "area of waters of Hamilton Harbour, on a line between Saltus Island and the eastern end of Hinson's Island to the Warwick shoreline at Godet's Passage, will be closed to normal marine traffic during the Parade. During the Parade, all boatmen are required to observe a five-knot no wake restriction and exercise caution when approaching or navigating the waters of Hamilton Harbour.
"Due to a planned fireworks display at the conclusion of the Parade on White's Island, the area of waters of Hamilton Harbour 800 feet to the north and 500 feet to the east, south and west of White's Island will be closed to all marine traffic between the hours of 6:00 p.m. and 10:00 p.m."
There are over 30 boats set to take part and there will also be a viewing area set up in Number 1 Car Park, with music, games, vendors and more.
Update: The event will now take place on Sunday evening — not Saturday — due to the weather forecast.
The full Marine Board No. 7 Notice 2022 follows below [PDF here]:

Read More About
Category: All