Bermuda headquartered Bacardi Limited is celebrating its 161st anniversary by planting 100 cedar trees in Riddell's Bay Gardens and Nature Reserve, to help protect the biodiversity of the island.
A spokesperson said, "This is part of a global initiative by which Bacardi will plant thousands of trees in locations that form part of the business and sourcing of botanicals and raw ingredients, including Bermuda as the global headquarters of the company.
"A highly valued and symbolic tree in Bermuda, the cedar provides a crucial nesting site and source of food for birds such as the native Bluebird. More than 95% of Bermuda's once dense forests of cedars disappeared between 1946 and 1953 following an insect attack, leading to a huge decline in the Bluebird population and the extinction of the endemic Cicada.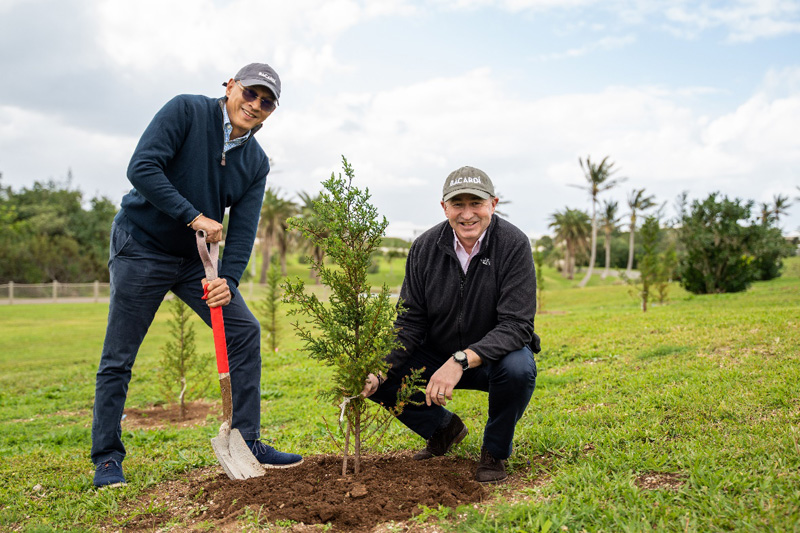 "The cedar trees planted by Bacardi Limited contribute to the island's efforts to reforest these important trees, as well as helping to capture CO2, boost oxygen levels and clean the groundwater and soil at Riddell's Bay.
"The initiative forms part of the continued drive from Bacardi to be the most responsible global spirits company in the world. Through its extensive Environmental, Social & Governance [ESG] program, Good Spirited, the company takes bold action to restore communities, revitalize natural ecosystems, and revolutionize the way it does business."
"As a family-owned company, doing the right thing is in our DNA, and all of us at Bacardi share that passion for taking care of the environment," says Bacardi Limited CEO Mahesh Madhavan. "It is especially rewarding to give back to Bermuda, home to our global headquarters, as we invest in supporting the community, wildlife and nature on this beautiful island."
The spokesperson said, "Last year, Bacardi partnered with the Beyond Plastic Bermuda campaign, a collaboration between Bermuda Environmental Sustainability Taskforce [BEST] and Keep Bermuda Beautiful [KBB], to educate the local community about the dangers of plastic pollution and encourage actions to reduce single-use plastic on the Island."
"Our recent Great Place to Work certification showed how much pride our team takes from the way we contribute to the local community here in Bermuda," said Douglas Mello, Managing Director of Bacardi in Bermuda. "To mark our 161st anniversary we are planting thousands of trees around the world, and while we focussed on locations where we source our raw ingredients, it was incredibly important to us to include Bermuda in our celebrations too."
Daniel and Sarah Tafur, spokespeople for Riddell's Bay Gardens and Nature Reserve said: "We are so pleased to partner with Bacardi Limited on this special project as we continue to work on creating a unique space for Bermudians to enjoy over 66 acres of protected land. Our goal is to reforest the site with endemic and native plants and trees and we are so grateful Bacardi chose to celebrate their anniversary with this generous contribution to our project and to Bermuda."
The spokesperson said, "In addition to the cedars on Bermuda, Bacardi Limited is also planting trees in India, Nepal, Indonesia, Ecuador, and Madagascar, to represent its thousands of global employees, with 11 different species carefully selected to maximize the benefits to each location and community. The 'Bacardi forests' will capture a combined 2.5M kg of CO2 during the trees' lifetime.
"The tree planting sites represent areas where Bacardi sources some of the botanicals and raw ingredients used in crafting its premium drinks portfolio, which includes Bacardí rum, Bombay Sapphire gin, Grey Goose vodka, Patrón tequila, Martini vermouth and Dewar's Blended Scotch whisky.
"On February 4, 2023, Bacardi celebrates 161 years since Don Facundo Bacardí Massó founded the company in Santiago de Cuba. Family owned for seven generations, Bacardi grew from a single rum brand to a portfolio of iconic global spirits brands. Find out more about Bacardi and its ESG commitments, including its alignment with the United Nations Sustainable Development Goals, at www.bacardilimited.com/good-spirited."

Read More About
Category: All, Business, Environment