The Association of Bermuda Insurers & Reinsurers [ABIR] held a ceremonial tree planting at Hamilton Ferry Terminal to honour past-ABIR Chair Michael Butt.
A spokesperson said, "The Association of Bermuda Insurers & Reinsurers [ABIR] honored past-ABIR Chair Michael Butt OBE for five decades of service to Bermuda and the international re/insurance industry. Former longtime Chairman of the Bermudian re/insurer, AXIS Capital, Mr. Butt announced his retirement in September 2020.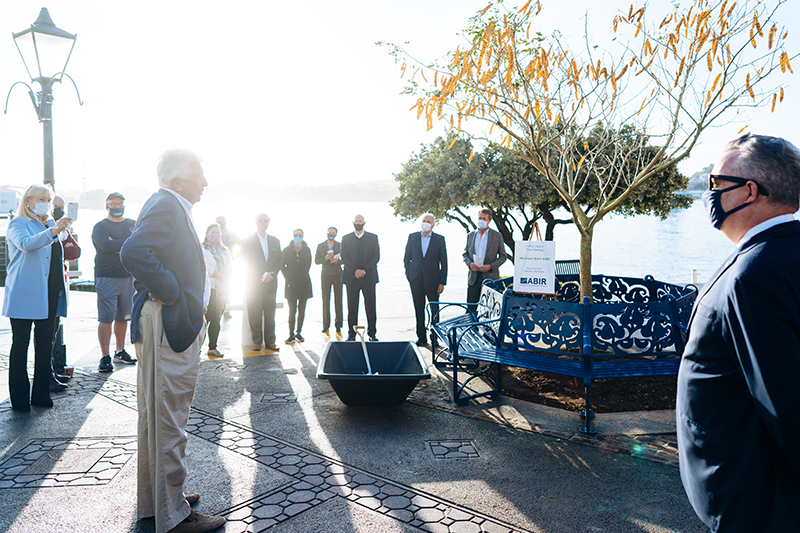 "ABIR member company executives and public officials joined for a COVID19-compliant, ceremonial tree planting at Hamilton Ferry Terminal as a living legacy to Michael Butt."
"This planting, at the busy Hamilton Ferry Terminal, recognizes Michael's commitment and service to ABIR, Bermuda, the environment, and the global [re]insurance industry," said Marc Grandisson, CEO of Arch Capital Group and current ABIR Chair. "Generations of Bermuda residents and guests will be forever reminded of Michael Butt's role in the development of the island's leading industry."
"Over the course of his career, Mr. Butt has been a builder of business, a builder of markets, and a passionate voice on issues such as climate risk. Chairman of the AXIS Capital Board of Directors for nearly 20 years, Butt played a pivotal role in guiding AXIS from a start-up into an established player in the global re/insurance industry," ABIR said.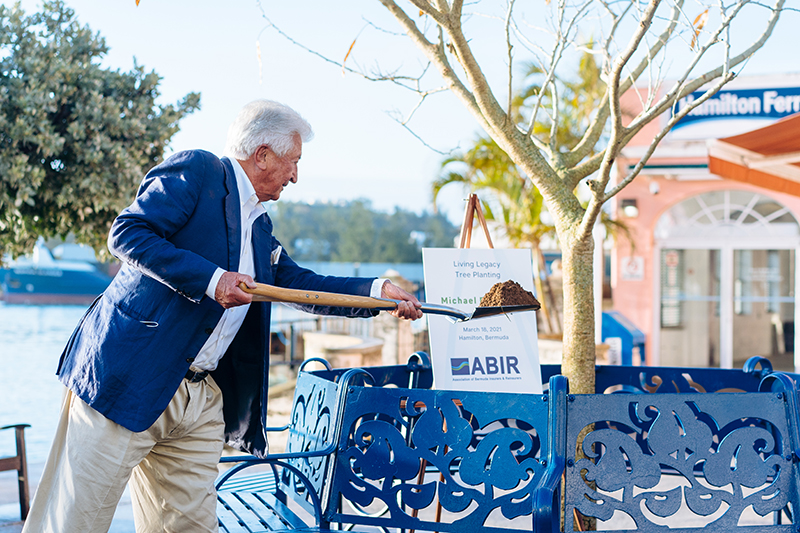 "Mr. Butt has held numerous leadership roles within the industry, including serving as Chairman, Sedgwick Limited; CEO, Eagle Star Holdings plc and Eagle Star Insurance Company; CEO, MidOcean Limited; and Director, XL Capital Limited and Farmers Insurance Group. Mr. Butt served as Chair of ABIR from 2008-2009.
"He serves on the Bermuda Financial Policy Council, which was created to advise on the development of Bermuda's financial stability framework. In 2011, he was appointed as an Officer of the Order of the British Empire [OBE] to commemorate his distinguished contributions toward the building of the Bermuda reinsurance industry, and in 2019 was named by the International Insurance Society as its 2019 Insurance Hall of Fame Laureate."
"Michael's impact on our industry and our Company has been immense. It has been an honor and a privilege to serve with Michael and call him my mentor, colleague and friend," said Albert Benchimol, immediate-past chair of ABIR and CEO of AXIS Capital.
"The tree, an Albizia Lebbeck, is commonly known in Bermuda as the Black Ebony and is classified as a large tree in Bermuda. The species originates in Indomalaya, New Guinea and Northern Australia, and is widely cultivated and naturalized in other tropical and sub-tropical regions. It is appreciated for its dense canopy and shade at the height of summer," ABIR added.
Charles Gosling, Mayor of Hamilton, said, "We are extremely pleased to partner with ABIR on this initiative which will usher in the 2021 planting season for the City. We have upward of 25 locations around Hamilton where we intend to plant new trees this year; species include Mahogany, Black Ebony, Jacaranda, Allspice, Pink Shower, Pride of India, Southern Hackberry and others."
"We are very interested in having the public share with us in the stewardship of our City spaces and play an active role, so we keenly encourage partnerships such as this one with ABIR. Not only do trees add to the beautification of a City, but they also serve the practical function of providing shade during the long, hot summer months," the Mayor added.
"ABIR, Bermuda and consumers around the world continue to benefit from the leadership of global leaders like Michael Butt," said John M. Huff, President and CEO of ABIR. "Michael's long-standing support of the environment, the changing climate and corporate responsibility are all symbolized in the planting of this tree, as a daily reminder of his commitment and service to Bermuda."
Read More About
Category: All, Business, Environment