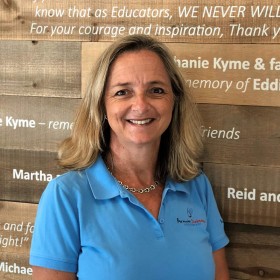 [Written by Stephen Wright]
The Lindo's to Lindo's Road Race will once again be raising awareness of diabetes and generating funds for the Bermuda Diabetes Association [BDA] on Sunday [March 5].
The event, which features a 10k run, 4-mile competitive walk and 4-mile fun run/walk, starts at Lindo's Family Foods in Warwick and finishes at Lindo's Market in Devonshire. Funds raised will go towards expanding the BDA's education initiatives.
Sara Bosch de Noya, the diabetes educator at the BDA, said the exercise benefits for diabetes are many and believes the 4-mile fun run/walk is perfect for those looking to become more active and make positive lifestyle changes.
"People often ask, 'How much activity should I be doing?' And my answer is, 'More than you're doing right now'," Ms Bosch de Noya told Bernews.
"That's the importance of the Lindo's-to-Lindo's 4-mile fun run/walk. It brings people together – friends, families, and co-workers coming out to join the event. Walking is a tremendously critical component of maintaining good health. A four-mile walk is achievable for most people."
Bermuda's disproportionately high concentration of Type 2 diabetes – a common condition that causes the level of glucose [sugar] in the blood to become too high – can be explained by several factors, according to Ms Bosch de Noya.
"Bermuda can be a sedentary society," she said. "If you look at towns in the UK, there are sidewalks [pavements] everywhere.
"However, in Bermuda, you take your life into your own hands when you walk on North Shore Road or Harbour Road as we don't have sidewalks [throughout the island]. We don't have an infrastructure that promotes a lot of physical activity.
"The vehicle ownership per household in Bermuda is high compared to parts of Europe. People with bikes tend to park right next to their desired destination. There's little possibility of adding additional walking to our route.
"Bermuda does have high numbers of diabetes compared to the global average. That's largely due to our genetics, culture and lifestyle."
Four benefits of physical exercise for diabetes
Control of blood glucose levels
"Our muscles require glucose for energy to move, so any physical activity, walking, running, cycling, swimming, is of huge benefit to reduce glucose levels and decrease insulin resistance," Ms Bosch de Noya said.
"Even after a 15 or 30-minute walk, you will see your glucose levels decrease tremendously, particularly if you go for a short walk immediately after a meal."
Improved cardiovascular function
"Having Type 2 diabetes can increase your chance of a cardiovascular event [hardening of arteries, heart attack or stroke] by 50 per cent," Ms Bosch de Noya added. "We know regular physical activity can lower your blood pressure by as much as 20 per cent – and that's without medication.
"An add-on for those on medication, increasing physical activity can have a major impact on blood pressure and cholesterol levels. It can also help lower bad cholesterol and improve good cholesterol."
Mental health benefits
"The Bermuda Diabetes Association is doing a lot of work on the mental burden of diabetes as a chronic condition," Ms Bosch de Noya said.
"You can't underestimate the value of physical activity in making you feel good. If you're able to go for a walk with friends and family on Horseshoe Bay on a Sunday morning, is it even possible to have a bad day?
"Going for a walk helps you destress and removes you from your environment. Participating in self-care can make you feel good about yourself.
Weight control
"Having excess weight or being obese doesn't always indicate you'll have diabetes," Ms Bosch de Noya adds.
"However, what we know for a fact is that for people with Type 2 diabetes, losing weight helps significantly in managing glucose levels and potentially helps people come off medication. It can also help glucose levels in people with pre-diabetes return to normal."

Read More About