The Bermuda Netball Association will be hosting a Walking Netball Community Program on March 23rd, April 13th, and April 27th.
A spokesperson said, "The Bermuda Netball Association is hosting a Walking Netball Community Program, with three pop-up sessions being held on Thursday March 23rd, April 13th, and April 27th. Open to males and females age 50 and up, though this is not a mandatory age requirement.
"Walking netball is specifically designed for persons looking for a lower impact version of the sport at a slow pace, with running and jumping not allowed. There are also rolling substitutions to allow persons to play as much or as little as they wish. This makes Walking Netball attractive to persons with varying physical abilities.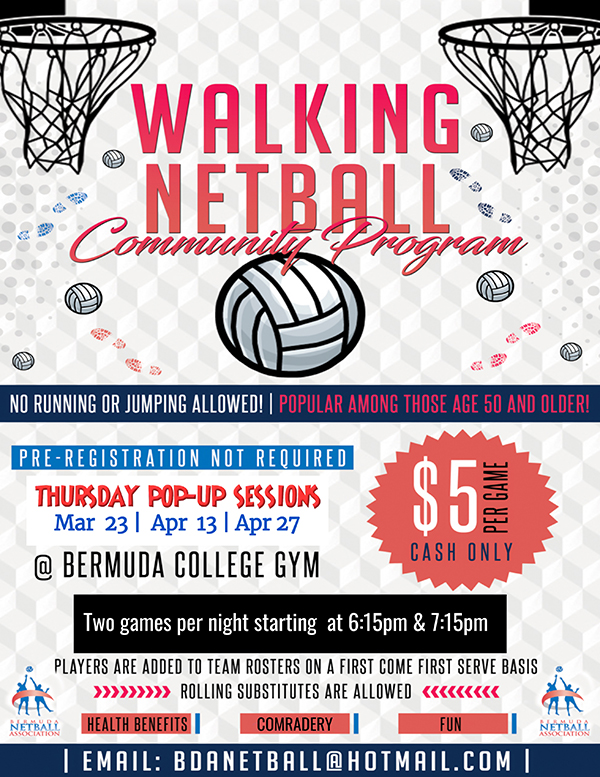 "Sessions will be held at Bermuda College gym and are open to all. Pre-registration is not required, with games taking place at 6.15pm and 7.15pm on a first come first serve basis. Participation fee is $5 per person payable in cash on the day.
"This program originally kicked off in 2020 and was unfortunately halted due to restrictions and caution during the COVID pandemic. The BNA is excited and looking forward to welcoming participants at Bermuda College.
"Interested persons may contact the BNA at bdanetball@hotmail.com.
"Direct messages may also be sent via our Facebook and Instagram accounts @Bdanetball."

Read More About