Future Leaders Bermuda announced an upcoming 'Student Resources Clinic', a community event designed to empower and engage high school students, university scholars, and recent graduates returning to Bermuda.
A spokesperson said, "Students will be able to engage in one-on-one sessions with current students and mentors at various stages of their academic and professional careers, as well as have access to resources that will equip them for their educational journey and professional development.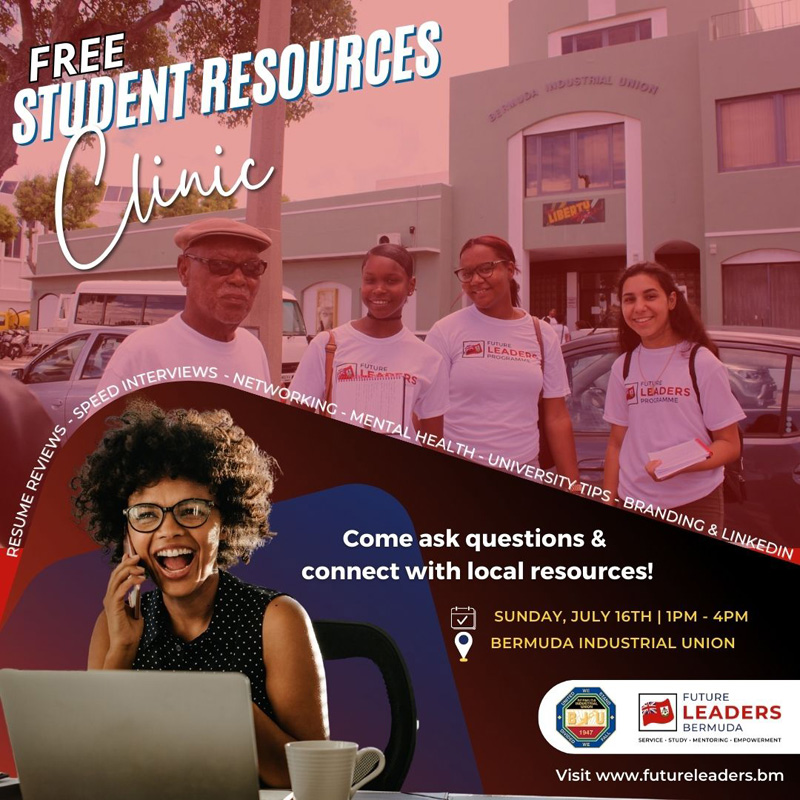 "Scheduled for Sunday, July 16th, 2023, from 1:00 PM to 4:00 PM at the Bermuda Industrial Union, the Student Resources Clinic will offer a wide range of free services to ensure students receive comprehensive support including:
Resume Reviews
Speed Interviews
Preparing for University
Tips for Transitioning School and Home
Mental Health Advice
Networking Session
Mentorship
LinkedIn and Brand Image
"The Student Resources Clinic is a testament to the commitment of the Future Leaders Bermuda network and sponsors in empowering Bermudian students and creating a brighter future for the community. By offering valuable resources and support, the event aims to serve as a grassroots and accessible resource for any and all students in Bermuda.
"Students are also encouraged to bring their resumes if available for review and come with any questions they may have at various stages of their academic and professional careers.
"For more information, please contact Alicia Lister at alister@futureleaders.bm."

Read More About