Focus Counselling Services is partnering with Masterworks Museum to host an exhibition of local artists titled 'Celebrating 2nd Chances.'
A spokesperson said, "In celebration of their 30th anniversary, Focus Counselling Services, a registered charity [#371] dedicated to addressing the needs of individuals affected by substance misuse and its related challenges, will partner with Masterworks Museum to host an exhibition of local artists titled Celebrating 2nd Chances.
"The exhibition serves to commemorate the past three decades of profound impact Focus Counselling Services has had on the lives of thousands of individuals and over 300 families. The exhibition will open with a special auction and reception on Friday, August 25, from 5:30-7:30pm.
"By focusing on the theme of transformation, local artists have worked to convey honest representations of the journey of recovery and growth. The exhibition aims to inspire hope for those battling addiction, letting them know that recovery is possible and that there is a supportive community ready to help. As well, it allows artists and the community to come together, contribute their skills, and collectively support a meaningful cause."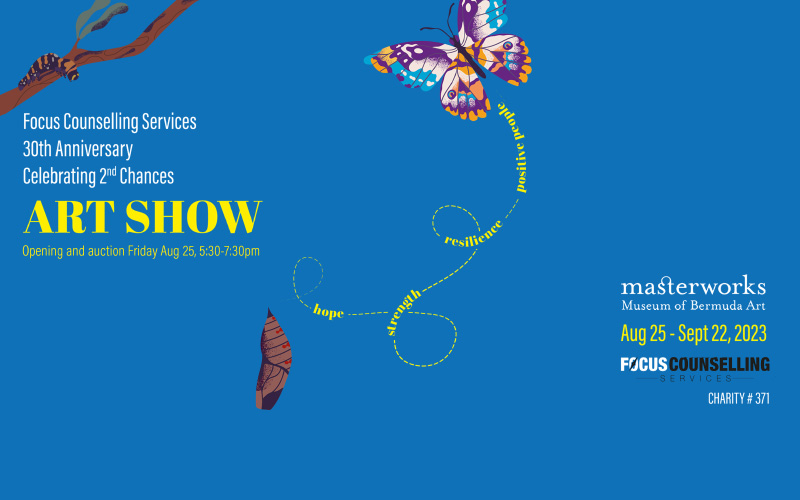 Executive Director of Focus Counselling Services, Leslie Grant, explains "I am excited by our collaboration with the arts community for our upcoming art exhibition fundraiser. We firmly believe that art possesses a unique and transformative power that can drive positive change, and we are thrilled to harness this creative energy for a cause as essential as addiction treatment services.
"Through this collaboration, we aim to create a platform where artists, painters, sculptors, and photographers can unite their talents to inspire hope and raise awareness about addiction and recovery. Each artwork will tell a profound story of transformation, reflecting the resilience and strength that lies within those on their journey to healing.
"By engaging with the arts community, we envision a powerful synergy that will not only generate vital funds for our addiction treatment services but also foster a sense of empathy and understanding among attendees. Together, we can shatter the stigma surrounding addiction, promote dialogue, and make a tangible difference in the lives of individuals seeking support and treatment."
The spokesperson said, "Funds raised from the auction and exhibition will go towards a comprehensive range of services, including outpatient treatment, residential treatment, and sober living, as well as support to cover the costs of the everyday operations of the organization."
The exhibition would be nothing without the support of the community explains Grant. He shared, "I extend my heartfelt gratitude to all the artists, volunteers, and supporters who are making this collaboration possible. Our shared commitment to compassion, creativity, and community will be the driving force behind this event's success. Let us come together to ignite positive transformations, healing, and hope within the lives of those affected by addiction."
The spokesperson said, "Celebrating 2nd Chances opens on Friday August 25, from 5:30-7:30pm and will be available to view until September 22 in the Rick Faries Gallery. The Masterworks Museum is open 10am-4pm, Monday-Saturday. For more information about Focus' services or to make a donation, please visit www.focus.bm or call 296-2196.
"If you or someone you know is struggling with substance abuse, please don't hesitate to reach out to Focus Counselling Services. They are here to provide the compassionate care and support you need to start your journey to recovery."
A booklet for the 'Celebrating 2nd Chances' exhibit follows below [PDF here]:

Read More About
Category: All, Entertainment, News