[Written by Stephen Wright]
A husband-and-wife filmmaking team have made a short film capturing the "enchanted paradise" of Bermuda through the eyes and paintings of local artist Déja "Rootsy" Harvey.
Olya Dendyaeva and Will Lascelles, a pair of award-winning filmmakers, have spent the past three years travelling the world in their sailboat searching for inspiring stories.
The "floating filmmakers" anchored in St George's for longer than expected because of stormy weather in June and were introduced to Ms Harvey, the subject of their short film, through a customs agent.
"Déja's creative energy and passion for Bermudian culture were truly infectious, and it didn't take long for us to realise that her story deserved to be shared with the world," Ms Dendyaeva told Bernews.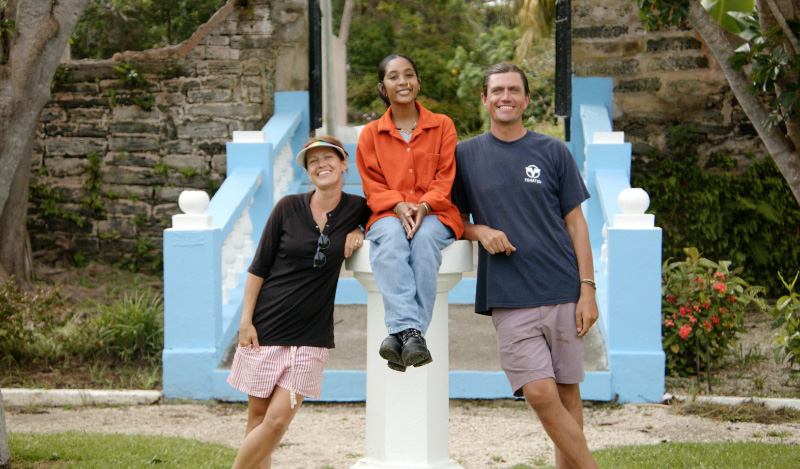 "In collaboration with Déja, we embarked on a project that evolved into something extraordinary – a documentary that captures her artistic prowess and her deep-rooted connection to Bermuda.
"Through heartfelt conversations and captivating visuals, we could delve into Déja's thoughts, dreams, and unwavering love for her homelands. Her dedication to preserving and celebrating Bermudian culture is nothing short of inspiring."
In the video, posted on the filmmakers' The Adventure Locker YouTube channel, Ms Harvey says: "My art is inspired a lot by Bermuda, simply because of our vibrant colours everywhere. Our architecture, the houses, it's very different from other places in the world.
"Just about every building, every home is a different colour. I find it very inspiring."
During their visit to the island, the filmmakers experienced the Bermuda Carnival, which Ms Harvey describes as an event where Bermudians can "let loose and express themselves fully and unapologetically."
Ms Harvey, the owner of Empressive Designs, which "promotes healing and spiritual growth to goal-driven individuals", also showed the filmmakers some of her favourite creations, including a painting she named Déjà vu.
"I enjoy being able to visually see and feel different emotions when I experience colour of any form," she said. "I'll pick a marker, pencil or paintbrush and begin drawing.
"It's not something I can see in my head before I do it. It's wherever I'm being led at the time."

Read More About
Category: All, Entertainment, Films/Movies, News, Videos