[Written by Don Burgess]
A waterpipe leak in the Shelly Bay sinkhole caused the road to be repaired twice in the past week.
The hole on North Shore Road across from Shelly Bay Park previously had two metal plates covering it. Last week, it was repaired with asphalt, but on Friday, water could be seen bubbling out of a hole near the fixed roadwork. On Monday, three metal plates were covering the area, which was finally repaired on Tuesday.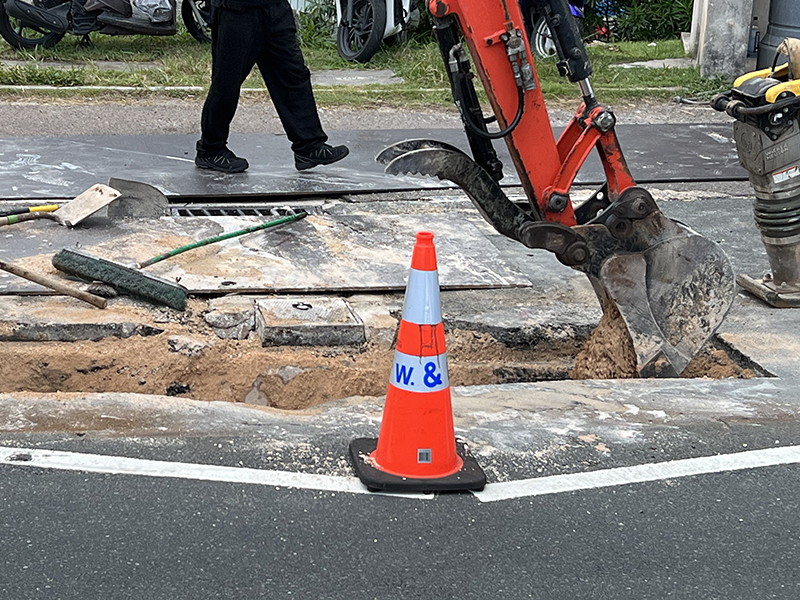 A Ministry spokesperson said, "There are water pipes running from Flatts to Radnor Road, Shelly Bay – they are 40 years old and are failing and scheduled for replacement.
"Last week, a major leak occurred, and the team promptly executed repair measures and successfully backfilled the sinkhole. However, a new leak manifested at the surface during the process of recharging the pipeline late on Friday. In response, immediate actions were taken to address the situation effectively.
"To ensure the safety of the area and its occupants, a temporary plate was securely placed over the affected area for the weekend.
"We would like to assure the public that this temporary solution has been implemented in full compliance with safety standards. Our efforts to resolve the leak are well underway. Scheduled works to address the leak resumed on Tuesday, 22 August, with our skilled technicians and engineers working tirelessly to rectify and the site was repaired and asphalted."
Read More About
Category: All