Niraj Odedra, the Bermuda national team cricket coach, has named his 14-man squad for the ICC Men's T20 World Cup Americas Regional Final.
The squad includes seasoned campaigners such as captain Delray Rawlins, Kamau Leverock, Tre Manders, Terryn Fray, Allan Douglas Jr and Zeko Burgess. Also named in the squad are Dominic Sabir, Charles Trott, Sinclair Smith, Derrick Brangman and Cejay Outerbridge, who were part of the Bermuda team that lost to Barbados in the inaugural Bermuda Premier League final earlier this month.
Experienced all-rounder Malachi Jones, who also played in that match, has missed out on selection.
Bermuda face Canada in the opening match at White Hill Field on Saturday [September 30].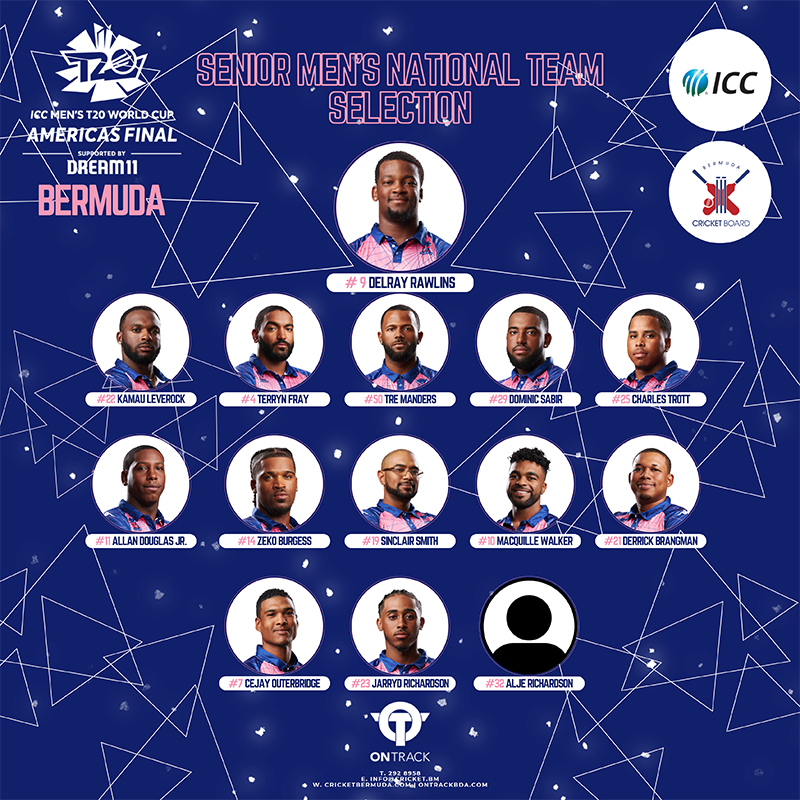 Matches will be held from September 30 to October 7 at White Hill Field and the National Sports Centre, North Field.
The winner of the Americas Regional Final between Bermuda, Canada, Cayman Islands and Panama will qualify for the ICC Men's T20 World Cup next year.
All the venues for the World Cup in the Caribbean and the United States have been announced by the ICC.
Antigua and Barbuda, Barbados, Dominica, Guyana, St Lucia, Trinidad and Tobago, and Saint Vincent and the Grenadines are the seven Caribbean venues that will host matches from June 4 to June 30.
The US will also co-host the event for the first time, with Grand Prairie in Dallas, Broward County in Florida and Nassau County in New York named as the venues.
Tickets for the Americas Regional Final are on sale via OnTrack Bermuda at www.ontrackbda.com/ticket/bcb.
Squad
Delray Rawlins, Kamau Leverock, Terryn Fray, Tre Manders, Dominic Sabir, Charles Trott, Allan Douglas Jr, Zeko Burgess, Sinclair Smith, Macquille Walker, Derrick Brangman, Cejay Outerbridge, Jarryd Richardson, Alje Richardson.
The full match schedule follows below [PDF here]:

Read More About