Today, Saltus Grammar School, in celebration of returning to a new school year, unveiled a new mural created by eight Saltus students and three teachers.
A spokesperson said, "Painted over the course of 10 days, the mural captures a collection of significant moments from "20":23" with each hourly segment of the clock representing a month of the year. Framed by a distinctive Moongate, the mural serves as a gateway to a realm of wonder and mystery symbolising the journey towards the future."
Commenting on the mural, Julie Rousseau, Head of School, "We are delighted to have this work prominently displayed outside of our Alumni Hall near the entrance to our St. John's campus. Murals have the power to ignite the imagination and positively influence our interactions with the people and space around us.
"We are grateful for the collaboration of our young artists, led by their Art Teacher Sarai Hines [Class of 2011], and how they have reflected key moments of school life in this work. It is a true visual representation of community building and a testament to our core value of belonging."
From top to bottom – Micah Hollis, Jessica Bucher '23, Paola Gonzalez, Honor Minors '23, Alexia Hurdle '23, Keira Burchall, Joanna Santiago '23, and former Art Teacher, Sarai Hines [back standing].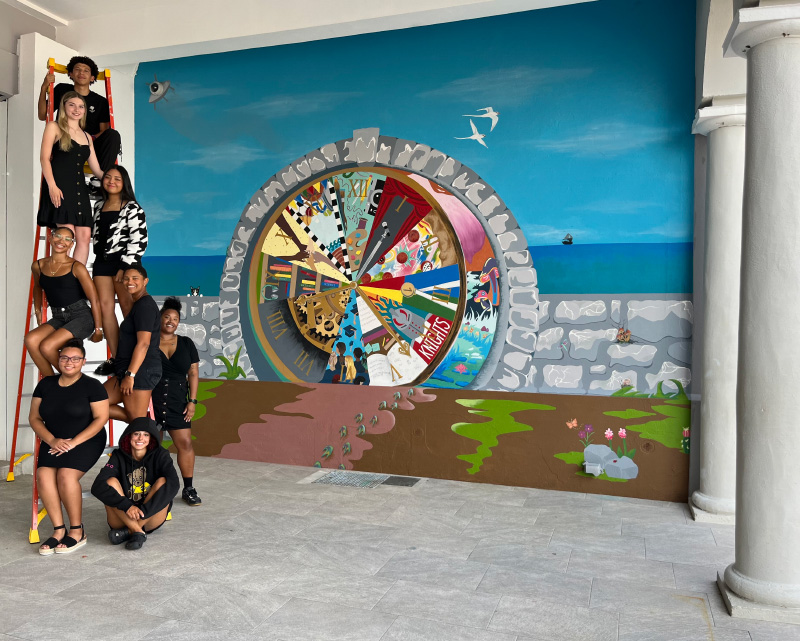 Read More About
Category: All, Entertainment, News