"This weekend has been that 'round the clock' effort to address the issues created by the cybersecurity breach that has severely impacted Government systems and service delivery," the Government said today [Sept 24].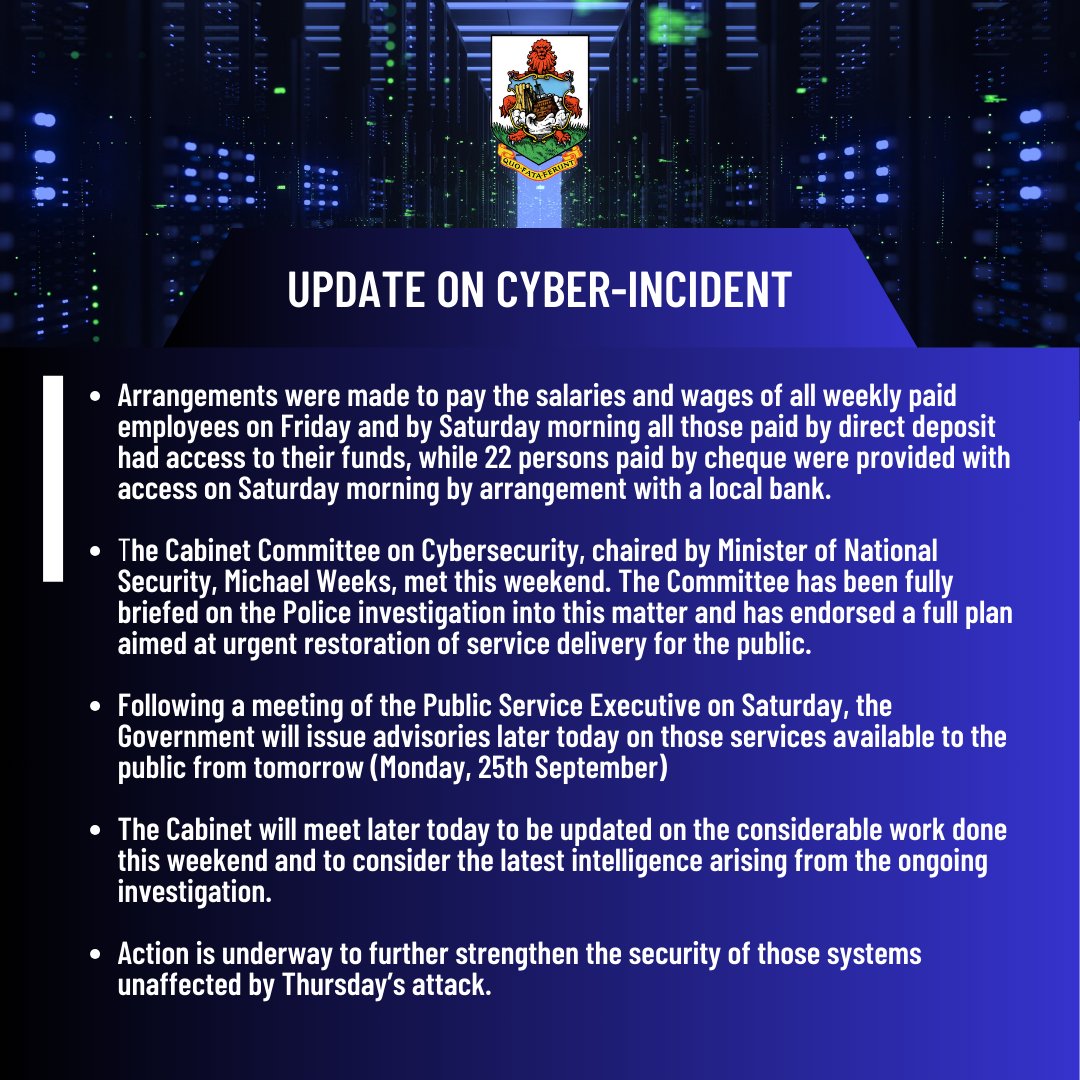 A Government spokesperson said, "In providing an update, a Government spokesman set out the following key points:
"Arrangements were made to pay the salaries and wages of all weekly paid employees on Friday and by Saturday morning all those paid by direct deposit had access to their funds, while 22 persons paid by cheque were provided with access on Saturday morning by arrangement with a local bank.
"The Cabinet Committee on Cybersecurity, chaired by Minister of National Security, Michael Weeks, met this weekend. The Committee has been fully briefed on the Police investigation into this matter and has endorsed a full plan aimed at urgent restoration of service delivery for the public.
"Following a meeting of the Public Service Executive on Saturday, the Government will issue advisories later today on those services available to the public from tomorrow [Monday, 25th September]
"The Cabinet will meet later today to be updated on the considerable work done this weekend and to consider the latest intelligence arising from the ongoing investigation.
"Action is underway to further strengthen the security of those systems unaffected by Thursday's attack.
Minister of National Security, Michael Weeks said: "There has been an immense amount of work done this weekend as we grapple with an unprecedented breach of our key government systems and operations.
"Teams across the Public Service have worked endless hours to ensure continuity in the payment of salaries and wages and those payments like financial assistance for the coming week. That work will continue. I wish to thank our Union partners and key private sector agencies who have stepped up to facilitate much of what has been done so far.
"Our goal is to continue working on restoring key operations as soon as possible and as we do so, we remain grateful for the public's patience and understanding."

Read More About
Category: All, News, technology