[Updated] "A Tropical Storm Warning now in effect for Bermuda," the Bermuda Weather Service said, adding that "we have higher confidence in our local conditions over the weekend with Idalia being more of a rain than wind event."
The BWS posted the graphic online below, saying, "We could experience localized flooding from heavier showers as Idalia passes.
"Idalia is expected to become a tropical cyclone again in the next 24-36 hours or so and we can expect occasional tropical storm force winds to begin on Saturday. We continue to confer with the National Hurricane Center and refine our forecasts accordingly.
"Heavier showers can start as early as tonight. Plan accordingly and stay safe. Latest local conditions located at: www.weather.bm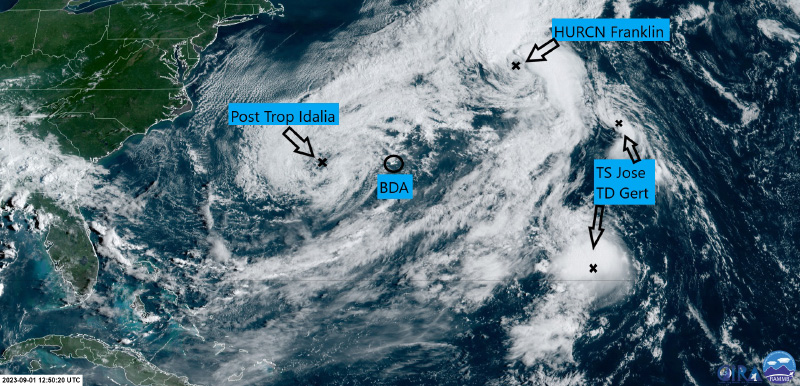 Update 1.50pm: A Government spokesperson said, "The Ministry of National Security urges the public to remain vigilant as Post Tropical Cyclone Idalia moves near Bermuda over the holiday weekend.
"As of the 12 noon advisory from the Bermuda Weather Service [BWS], Bermuda remains under a Tropical Storm Watch. While Idalia is no longer classified as a Tropical Storm, it will still bring high winds and unfavourable weather conditions over the weekend, particularly on Saturday and Sunday.
"Minister of National Security Michael Weeks urges the public to stay vigilant and monitor weather updates from the BWS, the official weather authority for Bermuda, and updates from the Emergency Measures Organisation [EMO]."
Minister Weeks states: "Please continue to stay informed and take precautions. Weather conditions can change rapidly, and we do not wish to be caught off-guard."
The spokesperson said, "While wind gusts are not expected to reach the level of Hurricane Franklin, residents and visitors should be prepared for high winds and adverse weather conditions, including wet weather on Saturday and Sunday.
"The Causeway will remain open and be closely monitored.
"Rough seas are also anticipated, and individuals are strongly advised to stay out of the water and avoid swimming during this period. Low-lying areas should take precautions against potential flooding, including securing valuable belongings.
"Lifeguards at Horseshoe Bay Beach observed rip currents this morning and will begin the process of erecting High Surf warning signs later today along the south shore.
"The Lifeguard Service will continue to monitor conditions and will make a decision Saturday morning whether to suspend their Horseshoe Bay Beach operations.
"Idalia, currently classified as a Post Tropical Cyclone, has the potential to regain strength as it approaches Bermuda.
"According to the latest update from the BWS at 12noon Idalia's closest point of approach to the island is expected to be approximately 81 nautical miles to the South-Southeast at 5 a.m. on Saturday.
"The system is moving east-southeast at 15 knots and has maximum winds of 50 to 60 knots.
"The Ministry of National Security will continue to provide updates and guidance as the situation evolves.
"We urge all residents and visitors to remain prepared, stay informed, and prioritise safety during this weather event.
"For the latest updates and information, please visit weather.bm."

Read More About