The Royal Bermuda Yacht Club has forged a partnership with Bermuda-based insurance and reinsurance company Aspen, signifying a heightened dedication to sustainability.
A spokesperson said, "A new partnership between the Royal Bermuda Yacht Club and Bermuda-based specialty insurance and reinsurance company Aspen is leading to a stronger commitment to sustainability efforts by the club founded in 1844.
"Bermuda is an idyllic, 21-square-mile oasis in the vast 16-million-square-mile North Atlantic Ocean. It is the only land mass located within the Sargasso Sea, a region of the North Atlantic that is bounded by four ocean currents and is a critical foothold in the battle against ocean pollution. Sustainability efforts on the island have consequences for ecosystems around the world.
"This year's Bermuda Gold Cup, scheduled Oct. 2-7, aims to help those efforts. The partnership with Aspen, a regatta sponsor, is aimed at creating a baseline to build upon for future regattas. The drive to reduce the impact footprint of such an event, with the large amount of travel to the island from all reaches of the globe, is a long-term effort that is being embraced by many of the regatta's sponsors.
Competitors from the Bermuda Gold Cup join the staff of Waterstart on Burt Island for a cleanup session [Photo: Ian Roman/WMRT]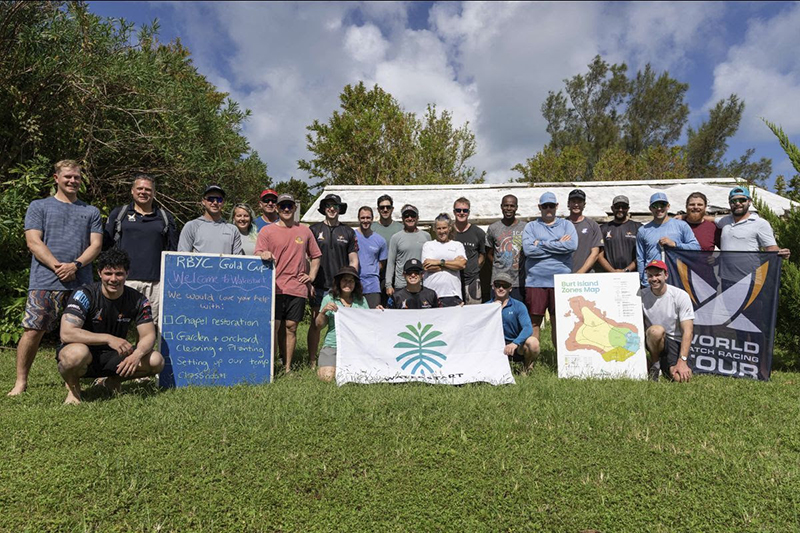 "Another partnership, with Bermuda-based charity Waterstart, aims to model sustainable practices and environmental awareness through experiential education. Some of the sailors in the regatta visited Burt Island in Great Sound today to help clean the island and eliminate invasive plant species.
"The Royal Bermuda Yacht Club is also working with Keep Bermuda Beautiful [KBB], a leader in community improvement and collaboration working to enhance Bermuda's neighbourhoods and quality of life.
"The Bermuda Gold Cup is committed to the Sailors for the Sea clean regatta program. An important part of that effort is the use of MarkSetBots, the popular robotic buoys that eliminate the need for mark set boats and their accompanying exhaust pollution and also reduce the impact on the biodiversity of seafloors as they eliminate the need for anchors.
"The regatta is eliminating single-use plastics and straws, and paper wherever possible. There is a water filling station at the top of the gangway to the dock where the boats are berthed, alongside recycle and compost bins.
"The Green Committee at the Club is very cognizant of the fact that we are ambassadors of the ocean," said Jon Corless, the chair of the Bermuda Gold Cup and a Past Commodore of Royal Bermuda Yacht Club. "There's a new public campaign on the island to eliminate single-use plastics and we stand wholeheartedly alongside all of those efforts."
JP Skinner, the founder and director of Waterstart, shows competitors from the Bermuda Gold Cup a trap used to catch rodents on on Burt Island [Photo: Ian Roman/WMRT]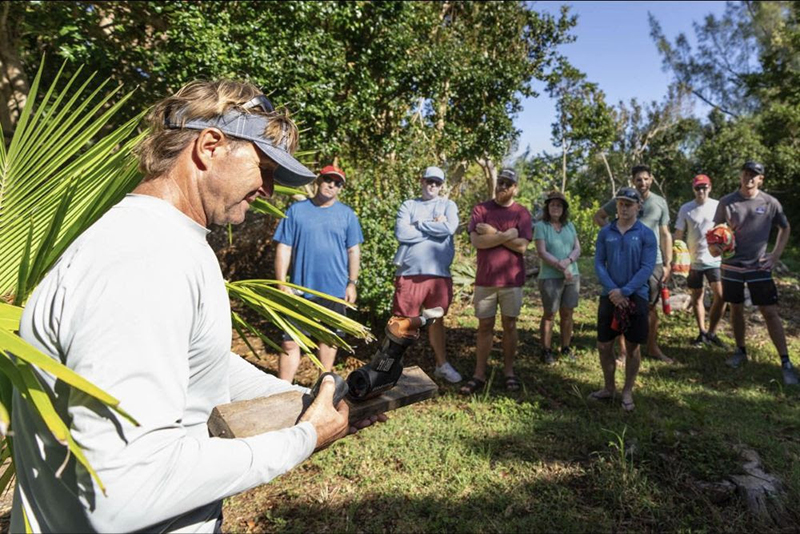 Schedule
"Racing for the 71st Bermuda Gold Cup is scheduled to begin tomorrow at 9:30 am ADT, and is scheduled to run through Saturday, Oct. 7.
"Group 1 includes crews led by skippers Taylor Canfield [USA], Pauline Courtois [FRA], Nick Egnot-Johnson [NZL], Dave Hood [USA], Eric Monnin [SUI], Chris Poole [USA], Harry Price [AUS] and Celia Willison [NZL].
"The first set of flights tomorrow morning pit Poole against Willison, Hood versus Courtois, Price versus Egnot-Johnson and Monnin against Canfield.
"Group 2 features crews led by skippers Johnnie Berntsson [SWE], Jeppe Borch [DEN], Gavin Brady [USA], Josh Greenslade [BER], Peter Holz [USA], Anna Östling [SWE], Jeffrey Peterson [USA] and Ian Williams [GBR].
"Group 2 is scheduled to take to Hamilton Harbour after lunch tomorrow and Flight 1 features Borch versus Greenslade, Östling against Holz, Brady against Peterson and Berntsson versus Williams.
Crews practice on Hamilton Harbour ahead of the 71st Bermuda Gold Cup [Photo: Ian Roman/WMRT]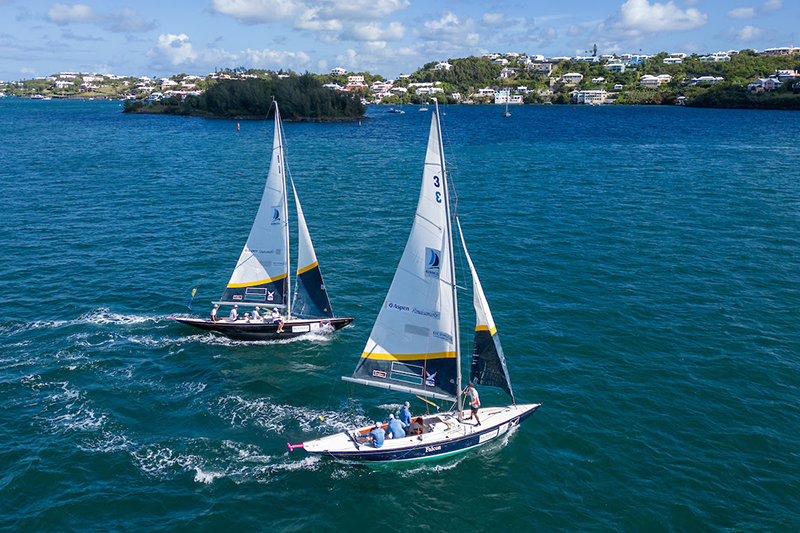 New Faces
"Skippers such as Berntsson, Canfield, Monnin and Williams have raced the Bermuda Gold Cup for decades and bring a wealth of credentials: a combined 47 appearances and seven championships.
"This year the Bermuda Gold Cup welcomes Egnot-Johnson, Greenslade, Holz, Hood, Peterson and Willison as first-time entrants.
"The 20-somethings in the crowd come with their own impressive credentials. Egnot-Johnson is the reigning match racing world champion. Peterson is the reigning youth match racing world champion and Willison recently finished the 2023 Women's Match Racing World Tour in second place.
"Today was great. Bermuda provided its finest conditions for us, a beautiful 15-knot westerly, and we couldn't have asked for better conditions to try out the IODs for the first time," said the 21-year-old Peterson, who boasted about being the youngest skipper in the event.
As for his impression of the 36-foot long, 7,100-pound IOD, he was blunt. "They're monstrous. They were a bit intimidating at first, but we got into a good groove and got through some lineups against other crews, and we feel comfortable. Some guys have sailed them a bit more often but at the end of the day we all get three hours to get ready and we feel like we've done a good job."
Hamilton Harbour was a sailor's paradise during practice for the 71st Bermuda Gold Cup [Photo: Ian Roman/WMRT]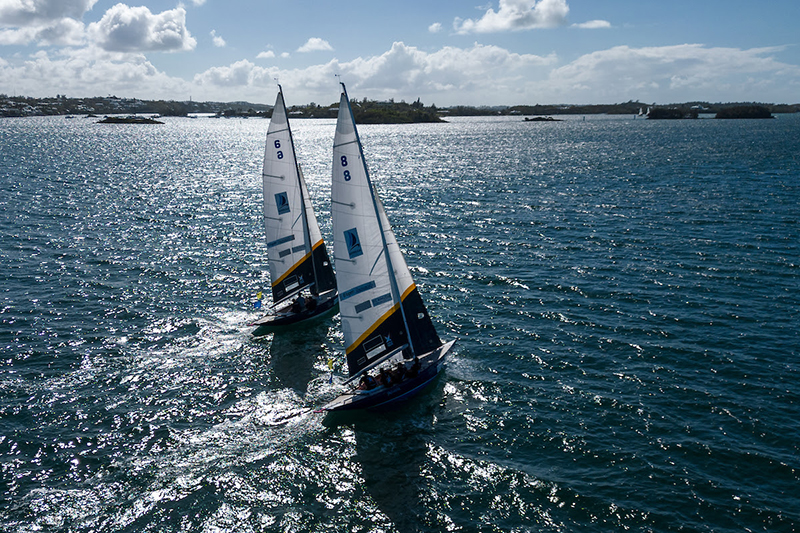 "Egnot-Johnson, the son of Leslie Egnot-Johnson, who skippered Mighty Mary in the 1995 Citizen Cup defense trials for the America's Cup, was going to make his debut at the 2020 Bermuda Gold Cup, but Covid-imposed travel restrictions postponed that premiere until this year. His first impressions were like Peterson's.
"We had an awesome day, our first time in Bermuda and first time sailing the classic IOD," said the 25-year-old. "It was a bit of an eye opener for us how hard they are to sail, struggled with how little control you have with the rudder. It felt like the main trimmer was driving the boat the whole day, so that made it interesting. But we got out there and had some great training against our Kiwi comrade Gavin Brady's team. We'll keep learning and that's what it's going to be about for us being the new kids on the block."
Willison, 25, was also taken aback by the slow response from the rudder. "We've never sailed on boats like these before in match racing and the lack of rudder control was alarming, the first time you go to bear away nothing happens," she said.
"We'd heard the boats were hard to sail and maybe all the comments psyched us out a little bit, but we had a good day training. It was pretty windy, but we did a couple of starts and mark roundings and we're happy with how it went. We typically go well in heavy winds, but racing against all men's teams might be different. It looks like a bit of everything this week, so we're excited to get racing tomorrow."

Read More About