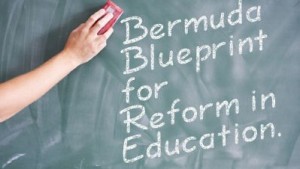 A meeting to discuss an analysis of the Blueprint for Education is planned tonight [May 12] at the Berkeley Institute Staff Room from 6:00 to 8:00 pm and interested members of the public are welcome. The independent analysis of the recently released Blueprint for Reform in Education was prepared by Dr. Dennis Shirley and Dr. Andy Hargreaves, two internationally recognized researchers based at Boston College.
The analysis was commissioned by the Coalition for Community Activism in Bermuda (CCAB) in mid-April and the document provides commentary on several key strategies of the Blueprint. The public has until May 15th to submit comments about the Blueprint to the MOED.
The Blueprint for Reform in Education is the 5 year strategic plan for the public school system in Bermuda which seeks to operationalize the priorities recommended in the Hopkins Report (2007) to improve student outcomes. You can download or view the entire 44 page Blueprint for Reform in Education here [PDF]
The analysis by Dr. Shirley and Dr. Hargreaves commends the government's reference to the Hopkins Report, the achievement of a vision, mission and target outcomes, and the selection of the Cambridge Curriculum. It also makes several recommendations for the future of Bermuda education.
The analysis suggests the need for a more inspiring, Bermudian focus in the vision and caution about the degree to which testing, accountability and standards systems actually lead to improved student learning. The reviewers also recommend addressing the issue of an autocratic, managerial culture that exists within the education system and building active trust based on respect, personal regard for others, competence and integrity.
Finally, the analysis suggests that emphasis be placed on teachers as professionals with collective responsibility for curriculum planning, shared leadership and collaborative development, and on the entire community to be involved in educational reform efforts. For the full analysis, please see here [16 page PDF]
CCAB is a non-profit, non-partisan volunteer group which serves as a resource for the community to promote democracy-building and active public engagement in an effort to address social justice and sustainability issues. The group sought the independent analysis in order to assist the public to make informed responses to the MOED.
Read More About