The Bermuda Government released a five year strategic plan today, designed to improve the island's education system.
Called "Blueprint for Reform in Education", the concept stems from the 2007 Hopkins Review of Public Education in Bermuda, which made clear that Bermuda's students were not being offered a good enough springboard into the world. The Blueprint offers a comprehensive set of goals and actions to be established.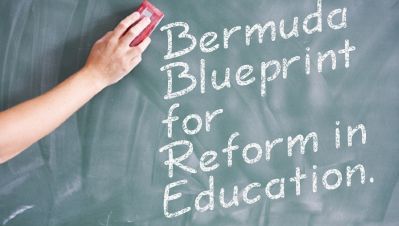 Minister of Education Elvin James said:
There are few greater responsibilities in Government than that of preparing the next generation to make their way successfully in the world. The quality of the education that we offer to our young people is a key determinant not only of their success as individuals, but also our success as a country. Our greatest national asset is our people, and investing in future generations must be one of our highest priorities.

Since the review of public education we have not stood still. Important legislative and administrative changes have been made, and our schools are taking the initiative in driving forward on improving teaching and learning. We have made progress, and we are addressing the challenges facing our education system. The time is now right to set out our detailed priorities and actions in this Blueprint which will deliver genuine transformation.

My vision is that this Blueprint will be a living document. We will return to it on an annual basis to assess our progress and to refine our objectives for the period ahead. But a plan is only useful if it is owned by those who have to deliver it, and those who will ultimately benefit from it. I am therefore offering this plan for a period of full public consultation, so that in transforming our education system we are drawing on the full resources that Bermuda has to offer.
Over the next several weeks the Department of Education will be holding a series of meetings to present and explain the Blueprint and to receive feedback from the public. Submissions may be made in writing to blueprint@moed.bm.
You can download or view the entire 44 page Blueprint for Reform in Education here [PDF]
Read More About