[Updated] Bermuda's annual Non-Mariners Race took place at Mangrove Bay in Sandys Parish today (Aug 1). As the story goes, decades ago a group of drinking buddies, for some unknown reason, debated the flotation properties of baby carriages, and a few days later ended up attempting to sail a baby carriage from Albuoy's Point to Whites Island.
This unsuccessful boating attempt is said to be the start of the Non-Mariners Race. The race grew in popularity and was initially held in Hamilton Harbour, but was eventually booted from the city after an entry sank in the main channel a few hours before a cruise ship was due to arrive.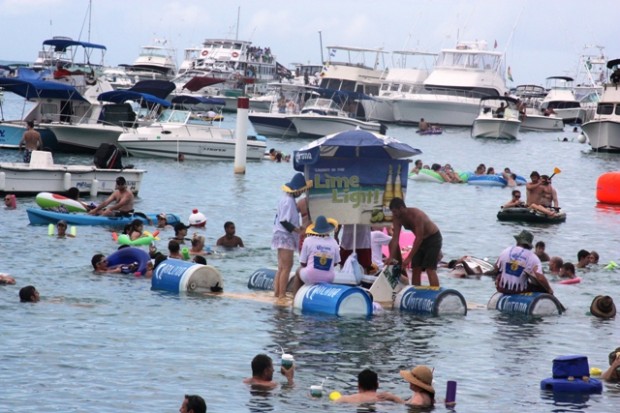 The race today did not begin until after the marching band, which compromised a number of colourful characters, opened the event. After the band opened the event, the entrants pushed their "boats" into the water and took off.
With political messages on full display, one "boat" was crafted in the shape of a rocket with a "person" strapped to the rocket, and said "Non Voyage Dr Brown", in obvious reference to Premier Dr Ewart Brown's plans to retire in October of this year, and had "It's Bermuda's Turn" across the side, which is the slogan of MP Terry Lister's campaign for leadership. Despite the inclement weather, a large and enthusastic crowd, who had made their way by land and sea, turned out to enjoy the event. The amount of "boats" entered was less than seen in previous years, but enthusiasm was just as high.
Click to enlarge images:

Read More About