As of their 3am [Bermuda time] update today [Sept 18], the US National Hurricane Center states that Hurricane Igor has weakened to a Category 1 hurricane, carrying maximum sustained winds of 90mph.
Although Bermuda is still in for a severe battering, this is an improvement as Igor was at one point a mighty Category 4, carrying winds of over 150mph.
The NHC continues to say that it is 275 miles away, and moving towards us north north-west at 12mph.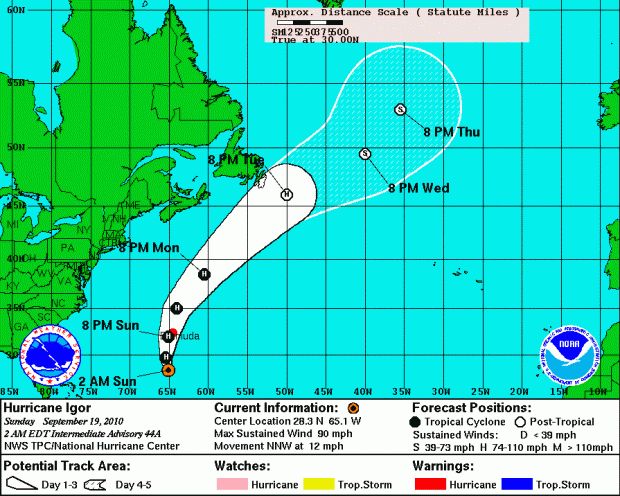 The Bermuda Weather Service has said that weather that early this afternoon we should have frequent showers, some heavy, and a continued risk of thunder with hurricane force winds expected this evening. The eye of Igor will be passing over all or parts of the Island and surrounding marine area around 3am Monday morning. They are expecting hurricane force winds to last until mid-Monday morning, with tropical storm force winds hanging on until late afternoon or even early evening.
Update 6:30am: The NHC 6am update said that Igor now has maximum sustained winds of 85 mph, its 235 miles away and moving at 12 mph.
We will continue to bring you coverage as Igor approaches, and for our previous posts on the storm click here.
Read More About