As of 8am today [Sept 19], soldiers have reported into Warwick Camp, and are ready for the impending approach of Hurricane Igor, which is now a Category 1 with 85mph winds.
The Acting Governor, in the exercise of the power conferred on him by section 32, as read with section 35, of The Defence Act 1965, made the order.
The soldiers will "hunker down" in Warwick Camp, and when the storm is over they will immediately spring to action to help clear arterial roads. Elements of the Regiment command ware already at the Command Center in Prospect, along with various other EMO personnel.
A solider is pictured below reporting in just before 8am today: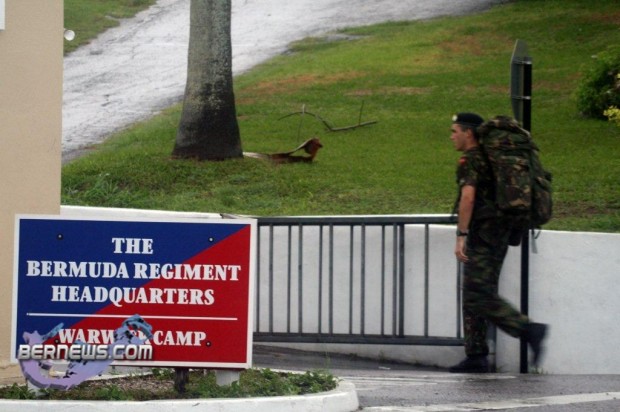 The Bermuda Regiment has been embodied on previous occasions including 1968 Riots and State of Emergency, 1970 Riots and State of Emergency, 1972 Assassination of Police Commissioner, 1973 Assassination of Governor Richard Sharples and his ADC, 1977 Riots and State of Emergency, 1981 General Strike, 1987 Hurricane Emily, 1990's When President Bush and Prime Ministers Thatcher and Major met in Bermuda, 1996 Chinese boat Xing Da with 100 illegal immigrants entered Bermuda waters, 2001 September 11th Terror Attacks and of course for the 2003 strike by Hurricane Fabian.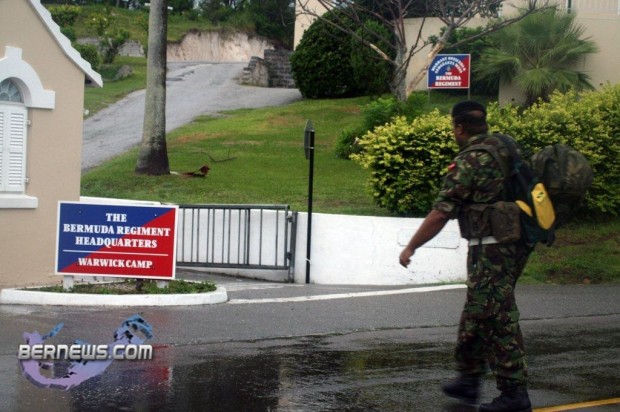 Bermuda Regiment has deployed a 20-strong specialist unit across the Causeway to provide service to the East End in the expected event the Causeway closes.
Read More About