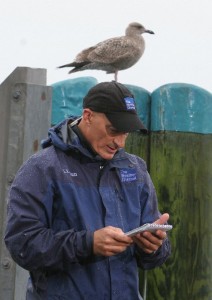 While many visitors have canceled their plans to visit to the impending Hurricane Igor, others have made plans specifically to come to Bermuda because of Hurricane Igor.  What is reported to be a "couple of dozen" meteorologists, both professional, media-affiliated and amateur "stormchasers" are set to arrive on the island today [Sept 17].
The Weather Channel's Jim Cantore [pictured] is perhaps the most well known meteorologist arriving, and will be flying in today along with his television crew. Seen as a "superstar" in the weather word, another visiting meteorologist told us "you know it's going to get bad when Cantore is coming". Mr Cantore has visited the island previously, for Hurricane Florence in 2007 and Bill in 2009, both smaller storms.
As we reported days ago, Mr Cantore was one of the first to compare the possible impact of Igor to Fabian, saying "It's becoming harder to ignore potential Fabian type impacts to Bermuda" earlier this week.
In addition, George Kourounis, Host of the Angry Planet TV series arrived in Bermuda today, and said he is "scouting the island, for places to hold onto."
Other meteorologists are set to arrive on island today, including amateur "stormchasers", who voluntarily travel to spots expected to be impacted by severe weather conditions. Ironically, some of the meteorologists were delayed in New York last night due to a storm on the East Coast.
In addition, Bermuda can also expect the arrival of international media personnel to cover the storm.
We will continue to update as Igor approaches, and for our previous posts please see here.
Read More About