In a statement few locals will be pleased to hear, a meteorologist from The Weather Channel has compared the potential impact of Hurricane Igor if it were to pass close, to that of Hurricane Fabian saying "It's becoming harder to ignore potential Fabian type impacts to Bermuda, but its still too early to tell."
Jim Cantore, an American meteorologist best known as an on-air personality for The Weather Channel, posted the message below approximately one hour ago from his verified Twitter account: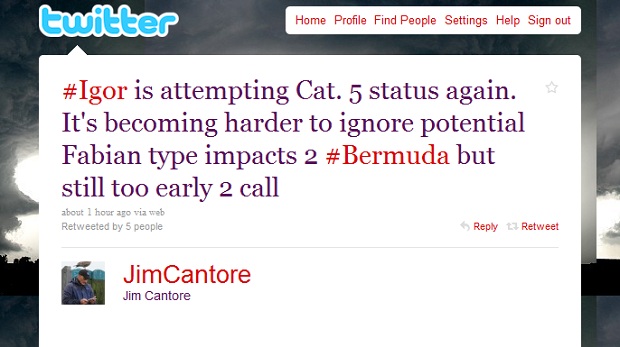 Many locals will recall Hurricane Fabian, and the mass destruction it brought to the island in September 2003. Striking Bermuda practically head on with wind speeds of over 120 mph [195 km/h], the hurricane caused hundreds of millions of dollars worth of damage and took the lives of four people in a tragic incident on the Causeway. It remains the largest disaster to have affected the island in recent memory.
Although Mr Cantore's statement is highly ominous, it is worth noting that forecasts can slightly differ, and as Mr Cantore said, it is "still too early to tell".
Igor is presently carrying maximum sustained winds of 145mph. The Bermuda Weather Service's latest update this evening said "it looks like any watches or warnings pertaining to Igor will be issued as early as Thursday. As Igor is a very large in size storm, I would expect that at the very least we will experience tropical storm conditions this weekend, unless there are dramatic changes in Igor over the next few days."
See various reports from around the web on Hurricane Igor as it relates to Bermuda here, and various videos and graphics of Igor and its path here.
Read More About