Dozens of people turned out for the 7th Annual Remembrance Ride for the victims of Hurricane Fabian today [Sept 5]. Seven years ago Fabian claimed four lives, the first hurricane to cause a death on the island since 1926.
The event honoured those who were swept from the Causeway by Hurricane Fabian on September 5th 2003: Constable Stephen Symons, Constable Nicole O'Connor, Station Duty Officer Gladys Saunders and Corporation of Hamilton employee Manuel Pacheco. Only Constable Symons body was ever found, and the other three are presumed to have drowned. A minute of silence was observed at the Memorial Bench at 2:25pm today, the time of the tragic incident.
Pins bearing each victim's name and "7″ were sold for $10 each, with the monies going to an educational fund for the victim's children. Constable Symons had a then-eight year old son, Stephen Jr, and Mr. Pacheco had a then-two year old son, ZenPaul, with wife Monica.
The Bermuda Longriders Club, well known to come out in support of community events, rode from City Hall to the Memorial Bench in St. George's, which was erected to honour those lost. They are pictured below arriving with a Police escort: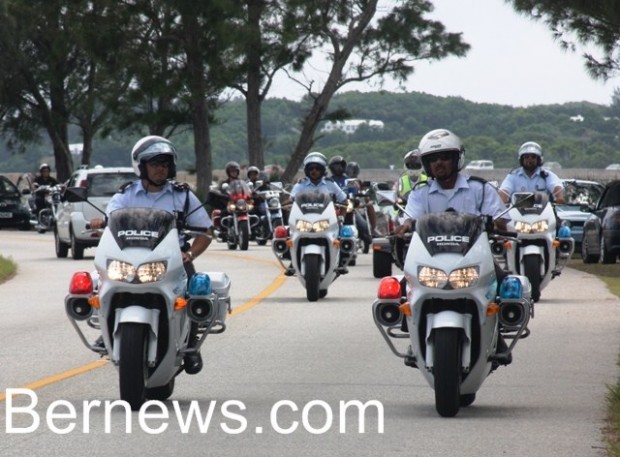 Three of those lost worked with the Bermuda Police Service, and numerous colleagues from the BPS came out including Commissoner of Police Michael DeSilva, who is pictured below laying flowers on the Memorial Bench: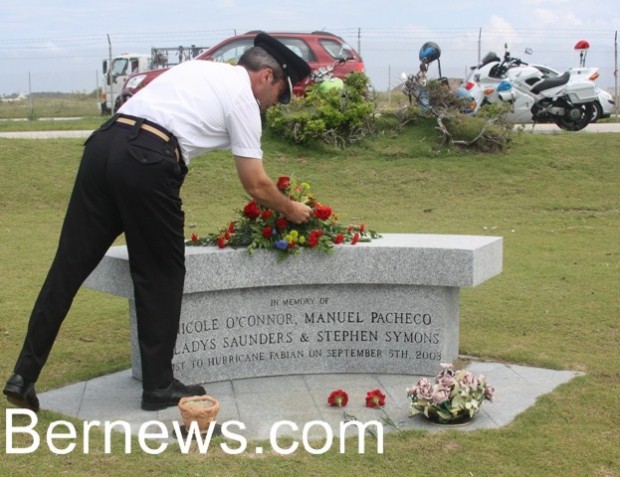 Many other officers came to pay their respects, including a Canine officer who brought along sniffer dog Willem, who is pictured below with a flower: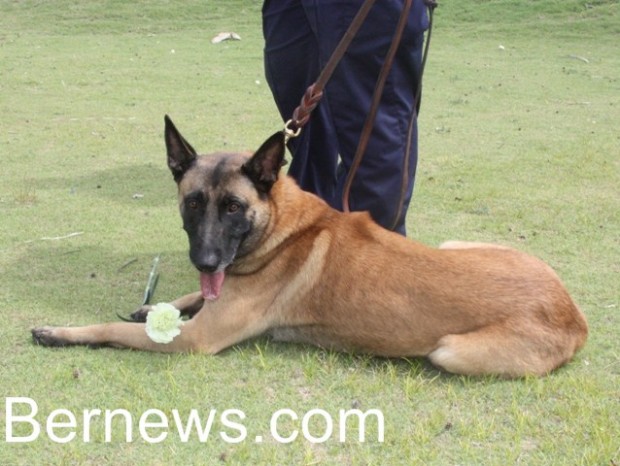 After brief speeches by Commissoner DeSilva, Station Duty Officer Linda Meinzer and Bermuda Longriders President Gerry Desio, those in attendance walked to the water's edge where they threw carnations into the water. Ms. Meinzer started by tossing four carnations into the water, saying the name of each of those lost as she did so.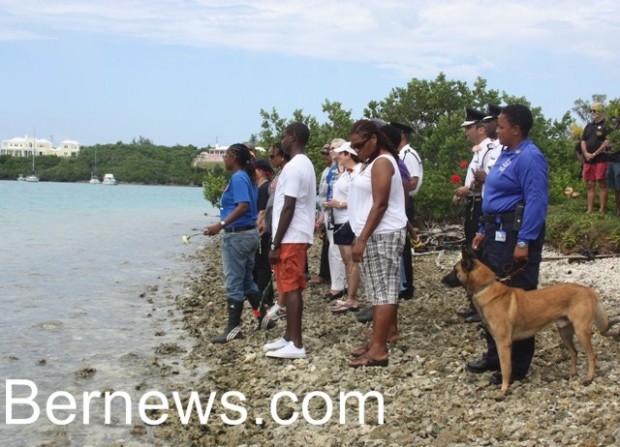 After the ceremony, the bikers rode to Police Headquarters in Prospect, where an informal reception was held. They are pictured below riding across the causeway – the spot where the tragic incident occurred exactly 7 years ago today: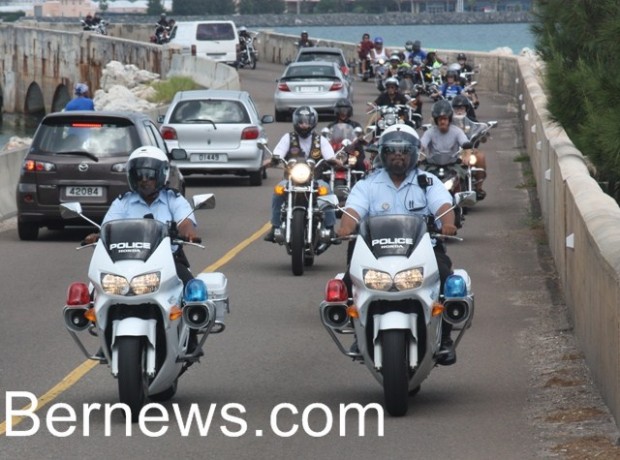 Videos can be viewed here, and click to enlarge images:
Read More About