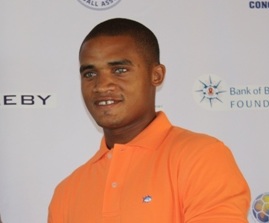 Bermudian footballer Ryan Purnell clinched the golden goal in a 1-0 double-overtime sudden death victory for his Philadelphia University soccer team on September 14th.
Mr. Purnell's dramatic goal gave his team the win over the West Chester University Golden Rams on Tuesday evening at Ravenhill Field. It came on a long assist from defender Travis Lobb after both teams battled through three scoreless periods.
The 23-year-old is currently studying for a degree in marketing at Philadelphia University where he is a stalwart on the Philadelphia Men's Varsity Soccer team. He has been voted as the Central Atlantic Collegiate Conference or "CACC" Rookie of the Year as well as being voted to the ALL-CACC 2nd Team. He is one of the top performers on every statistical category for his football team.
Also successful off the field, the footballer was recently awarded the Carlton "Pepe" Dill Scholarship valued at $15,000 per year.
Read More About