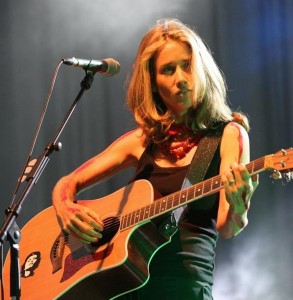 Bermudian singer Heather Nova says she recorded parts of her latest album during daylight hours due to the noise created by Bermuda's treefrogs.
The singer, whose music videos have been played on America's MTV2, Europe's MTV and Canada's MuchMusic, says on her Myspace blog that she recorded parts of her new album "during daylight hours as the treefrogs are so loud at night."
The sounds of the treefrogs are one that most Bermudians are entirely used to, with many visitors noting the noise far more than locals. The tiny amphibians are not indigenous to Bermuda, and were introduced accidentally sometime in the last century, possibly on imported flowers. They can be heard island-wide when the weather is warm enough, with their "song" being the sound of males trying to attract females.
Heather Nova goes on to say on her blog that "I played around a lot over the last 2 years with different sounds and ideas, but in the end I decided I wanted to make my most stark record to date, so I recorded the songs with just me and my guitar. Afterwards we added a string quartet to a few tracks.
I have a home studio here in Bermuda, but when I was ready to put down the tracks, the whole thing started breaking down – first the mixing desk then the computer itself died. I was very "in the zone" to record and didn't want to wait what could be weeks for all new gear to arrive, so I decided it was a lesson in simplicity– I realized I could still record and mix the album on my solar powered laptop. So there you have it – that's all you need to make a great sounding album. Sun and songs."
Read More About
Category: All, Entertainment, Environment, Music, News