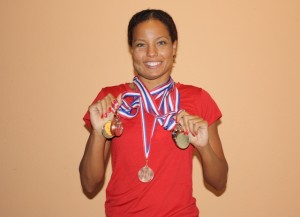 Bermuda's top swimmer Keira Aitken will fly the flag for Bermuda tonight [Oct 3] at the opening of the Commonwealth Games in India.
Bermuda's Commonwealth Games Chef De Mission Stanley Douglas announced that swimmer Kiera Aitken will bear the flag at the XIX Delhi Commonwealth Games this evening. Making her third Commonwealth Games appearance, Ms. Aitken ranks amongst the most accomplished athlete the island has produced in recent times.
Ms. Aitken has represented the island internationall at the highest level numerous times including the 2004 & 2008 Summer Olympic Games, the 2003 & 2007 Pan American Games, and recently brought home 5 medals and set a new Caribbean record at the 2010 Caribbean Island Swimming Championships in Cuba. Ms Aitken holds a number of Bermuda national records, and frequently shatters her own record to set another.
Mr. Douglas said, "Aitken has been able to prove her consistency at major competitions, thus her being the most logical choice. Her ability to focus at such festivals reflects her discipline."
Bermuda's team will compete in in Athletics, Shooting, Squash, Swimming and Tennis.
Read More About