Four hundred of the Island's seniors gathered today (Dec 20) in the ballroom at The Fairmont Southampton to celebrate the season together at a special Christmas party. The festive luncheon was hosted by The Fairmont Southampton in partnership with the Bermuda Senior Islanders' Centre at Admiralty.House and the Island Wide Social Committee. Participants enjoyed a holiday luncheon and entertainment against the sparkling backdrop of the hotel's Christmas decorations.
Pictured below, from left to right, are Norman Mastalir, Managing Director, Fairmont Bermuda; Dorothy Morrissey, Glamorous Granny of the Year and Fred Hassell of Bermuda Senior Islanders' Centre.
Seniors were invited to attend the event through Island Wide Social Committee, a group of 18 senior clubs across the Island. Tickets for the luncheon were free, thanks to the sponsorship of The Fairmont Southampton, and were distributed evenly to members of these clubs to give as many seniors as possible an opportunity to join in the festivities. Entertainment for the afternoon included carol singing and a performance by a senior choir.
"We were thrilled to welcome so many of Bermuda's seniors for this special occasion," said Shelley Meszoly, regional director of sales and marketing for Fairmont Bermuda. "This is Fairmont's way of giving back to the community and recognizing Bermuda's growing elderly population. The party was a lot of fun and it was heart-warming to see the big smiles on the faces of the seniors as they arrived at the hotel to celebrate the Christmas season."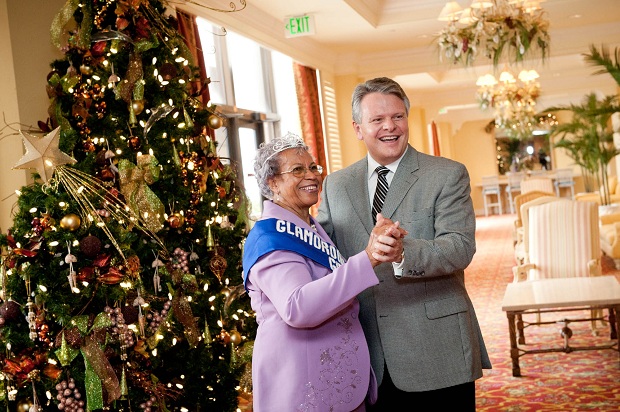 Fred Hassell of the Bermuda Senior Islanders' Centre said of the luncheon: "Everyone who had the pleasure of attending today's party had a wonderful time. On behalf of the seniors of Bermuda, I would like to thank The Fairmont Southampton for their generosity and for sharing the Christmas spirit with Bermuda's seniors. Today was a very special day for these people and the event really brought the magic of Christmas alive."
This is the 26th year that The Fairmont Southampton has hosted this event. The tradition was originally started by Sir John and Lady Swan. Seniors showed their appreciation for the afternoon by offering a contribution to The Fairmont Southampton staff who prepared and served the lunch.
Read More About