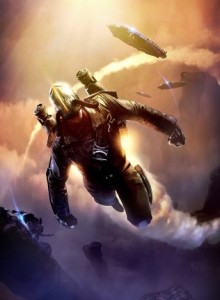 Superstar Brad Pitt has signed on to play a World War Two pilot who flies through a dimensional portal located in the seas off  Bermuda and crash lands in a parallel world in an upcoming movie adaptation of the new video game "Dark Void."
The game — one of the most popular home entertainment releases of 2010 – is set during World War II and tells the story of William Augustus Grey, a charter pilot for hire who finds himself tricked into flying into the Bermuda Triangle.
There, he finds a parallel world known as "The Void", which, apart from containing all the missing vessels and aircraft which have mysteriously disappeared in the Bermuda Triangle, is home to a race aliens called The Watchers. It emerges The Watchers were trapped in "The Void" and are seeking to return to earth and rule humankind by manipulating the Nazis.
"Luckily, (legendary scientist) Nikola Tesla happens to be trapped in the Void too, and it's not long before he's armed Grey with a rocket pack and a couple of guns and turned him loose on the nefarious extraterrestrials," remarked the UK "Daily Telegraph" in an enthusiastic review of the video game. "The game's entire premise feels like a delightful throwback to the pulp science fiction tradition of the 1960s.
"This is the sort of story you'd read in vintage comic books in which square-jawed, blue-eyed heroes take on the universe armed only with a Luger (taken off a dead Nazi, naturally) and a devil-may-care smile. It's retro science fiction in the classic sense; you're not supposed to ask how Grey's rocket-fuelled jetpack avoids burning his backside, nor are you to query how Nikola Tesla ended up in the Bermuda Triangle …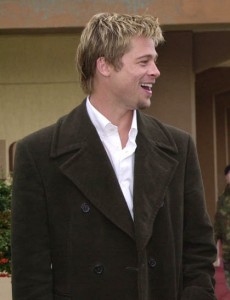 The "Telegraph" went on to say: "…. With news that Brad Pitt (pictured) and his production company is on track to turn 'Dark Void' into a movie this is (usually) our cue to remark that films based on video games are about as rubbish as video games based on films.
"But in this one instance, we're prepared to risk looking silly by saying that 'Dark Void' would probably work very well as a Hollywood blockbuster … Even the more discerning moviegoer would find it hard not to admit that it at least sounds entertaining … Think of it as 'The Rocketeer Meets War of the Worlds'."
Brad Pitt's Plan B production company acquired rights to the game while it was still in development last year and will finance the multi-million dollar project independently. It's believed the film version of "Dark Void" will go into production next year.
Married to actress Angelina Jolie, actor/producer Brad Pitt is a two-time Oscar nominee and one of the most popular leading men in movies. He has appeared in such blockbuster films as "Se7en" (1995), "Fight Club" (2001), "Mr. and Mrs. Smith" (2005) and "Inglourious Basterds" (2009). His next movie is reportedly an adaptation of the best-seller "World War Z", the story of a zombie apocalypse in the near future.
Earlier this month it was reported a planned fifth installment of the Indiana Jones movie franchise will also feature a Bermuda Triangle-themed plot in a 1950s period setting.
A short documentary on how the Bermuda Triangle myth inspired "Dark Void's" storyline appears below.
Read More About
Category: All, Entertainment, Films/Movies