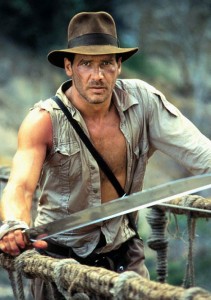 Harrison Ford is going to dust off his Snap Brim Fedora, don his bomber jacket and revisit his phobia for snakes in a final crack of the bull whip as Indiana Jones – with his last movie adventure reportedly set in the Bermuda Triangle.
In the unnamed new project, two-fisted, treasure-hunting archeologist will likely pass the family tradition for high adventure onto son Mutt Williams (Shia LaBeouf), introduced in the franchise's last, underwhelming entry  "Indiana Jones and the Kingdom of the Crystal Skull" (2007).
Mr Ford, 68, has dismissed speculation which appeared in the "Huffington Post" on Monday (Dec. 20) that he would like to see the iconic screen character killed off in the new film to permanently preclude any further comebacks
Earlier this year the New Zealand website "Stuff" reported the fifth and likely last installment in the Indiana Jones series featuring Ford — which began in 1981 with "Raiders of the Lost Ark" — would be a stripped-down affair, dispensing with the non-stop, CGI-generated action which had many reviewers openly comparing "Crystal Skull" to a video game.
Stuff reported that Indiana Jones 5 will begin shooting next year, and much of the plot line will be centred around the Bermuda Triangle, an area over the North Atlantic Ocean where a number of aircraft are said to have disappeared.
"(Producer) George (Lucas) and Steven (Spielberg) have been working on a script and it's almost there. Harrison is on stand-by for filming next year. This looks like being an emotional and exciting conclusion to the franchise, with Indy facing his biggest challenge yet."
Although executives working on the upcoming blockbuster have attempted to downplay rumours about a Bermuda Triangle-based plot, the supposed setting of the new film has been welcomed by entertainment journalists and Indiana Jones fans. "I'm not going to speculate on the Bermuda Triangle story possibilities, though it is certainly a ripe location for a treasure hunting adventure," said MTV.com's film critic.
Indy V is due to go before the cameras in the New Year and will be released in 2012.
"They're script writing right now,"  Shia LaBeouf said recently. "I got called into Steven Spielberg's office and he pitched a little bit to me and it sounds crazy, it sounds really cool."
Read More About
Category: All, Entertainment, Films/Movies