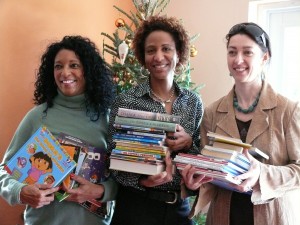 The Sunshine League received the gift of literacy today (Dec. 23) from the Bermuda Reading Association.
The Reading Association spearheaded a special appeal on behalf of the Pembroke children's home this Christmas season,  encouraging the community to not lose sight of the most valuable gift they can give to youngsters — books.
Members of the Reading Association placed gift-wrapped drop-off boxes in four of Bermuda's most popular book stores — People's Pharmacy, True Reflections, Brown & Co.'s Bookmart and the Bermuda Bookstore — asking patrons to purchase a book for donation and then deposit it in the gift box.
The campaign proved highly successful and today Sunshine League director Denise Carey (middle) was presented with the donated books by Reading Association president Darnell Wynn (above left) and vice-president Rebecca Van Homan.
The books will be added to the home's borrowing library to assist volunteers and tutors by providing an array of good literature that both the adults and children will enjoy.
Anyone interested in helping the Bermuda Reading Association can contact the group at info@bermudareading.org.
Read More About