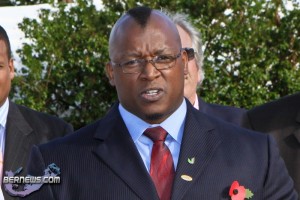 Devrae Noel-Simmons, the UBP's candidate for tomorrow's [Dec 15] bye-election in Constituency 26, has come down appendicitis. He went to hospital this morning and is being prepped for surgery shortly.
In an email he sent from the hospital to his UBP colleagues, Mr Noel-Simmons said "OK well we have the results… I have appendicitis. This means surgery! I am waiting for the surgeon now.
"Needless to say I am beyond upset and feel at this moment that I have let you all down.
"Especially with the amount of work that has gone into setting up [this bye-election campaign] and people putting their time and hard work into me. I know that we can still prevail. I can't fathom dropping the ball right now. I score goals and I win!"
In the meantime, UBP Leader Kim Swan said: "It has been a fantastic journey with Devrae these past few weeks and this 11th hour development is a shocker.
"Of course all of us in the party send him the best for a speedy recovery. Devrae is such a strong character that it would not be surprising if he turned up at the polling station tomorrow."
"In terms of the bye-election, I would like to leave one thought with the people of Warwick: Bermuda today needs the strongest possible community leadership.
"We need people on the ground who can listen, understand and carry forward the concerns, issues and hopes of everyday people. Devrae is absolutely that kind of leader. Warwick needs strong leadership and Devrae will provide it, of that I have no doubt"
The bye-election, prompted by the resignation of former Premier Dr Ewart Brown who held the Warwick Parliamentary seat since 1993, is being held tomorrow.
Former Government Senator Marc Bean is the Progressive Labour Party candidate while Sylvan Richards is representing the Bermuda Democratic Alliance in the party's first time sending a candidate to the polls.
Read More About