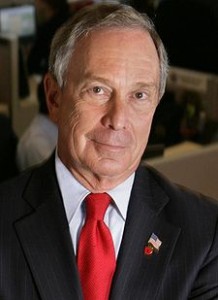 The mystery of the missing Mayor may have a solution — the "New York Times" reports today (Jan 11) Bermuda residents confirm Michael Bloomberg was on the island during the Christmas "Snowmageddon" which paralysed the US city and closed down some essential sources.
Now being called the billionaire Mayor's "Katrina Moment" — a reference to President George W. Bush's delayed response to the hurricane which caused catastrophic damage in New Orleans — Mr. Bloomberg's whereabouts during the severe winter storm has been a New York talking point for weeks.
"Just where Mr. Bloomberg was over the Christmas weekend, as a snowstorm bore down on New York City, remains a mystery, prompting intense speculation in the New York press, even now," says the newspaper. "Mr. Bloomberg and his aides refuse to talk about it. But the residents of Bermuda have taken no such vow of silence.
"They say that Mr. Bloomberg's plane arrived on the island, where he owns a large waterfront home, sometime after midnight on Christmas morning. They spoke on condition of anonymity, for fear of inflaming the mayor and the local authorities, who prize discretion for visiting dignitaries."
Now being nicknamed "Bermuda Mike" in New York's tabloid press, the Mayor and some of his top aides have been criticised by the media and city residents for going out of town over the Christmas holidays when forecasters had predicted a major blizzard would hit the city.
"The Mayor's public schedule shows that he attended a Mass late in the evening on Dec. 24 at St. Patrick's Cathedral in Manhattan," reports the "Times". "After that, he did not re-emerge in New York City until about 4 p.m. on December 26.
"… It was, locals said, a spectacular time to be in Bermuda. Weather reports show a high of 65 degrees on December 25 and an 'above normal' temperature of 69 on Dec. 26. One resident called that day 'gorgeous'. Back in New York City, it was considerably colder, hitting 32 and 30, respectively, with snow on the way.
"By midmorning on December 25, in fact, forecasters had predicted up to a foot of snow in New York."
Read More About