Over 160 recruits, 36 of them volunteers, are undergoing two weeks of intense training at Warwick Camp, with the recruits now in their fourth day of training.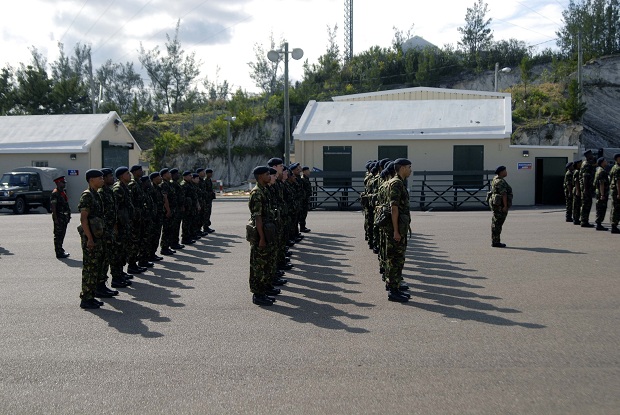 A spokesman said: "On the drill square they have learned to march as one, and already can respond sharply to commands such as "Salute to the Front," "About Turn," or "Eyes Right." Their first real test on the drill square will be this Saturday's Inter-Section Drill Competition."
Capt David Madeiros (OC Trg Coy), Premier Paula Cox, Cabinet Secretary Donald Scott and Asst Cabinet Secretary Judith Hall-Bean are shown below touring Warwick Camp: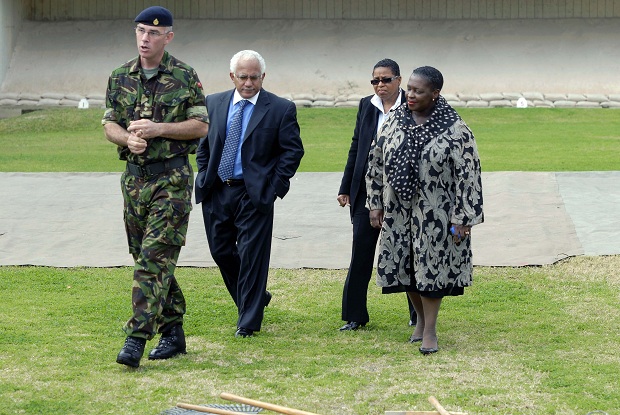 The Governor is joined by US Consul Grace Shelton in a talk with one of the platoons, while on break from a morning drill lesson:
"By the end of Thursday evening, the recruits will have concluded five days of weapons lessons. They will then be required to pass a Weapon Handling Test, where they will have to demonstrate their proficiency in the safe handling of the Mini Ruger 14, before being permitted to fire on the Camp and Beach ranges. Live firing commences on Friday."
Recruits are pictured below receiving instruction on safe weapon handling from their Section Commander: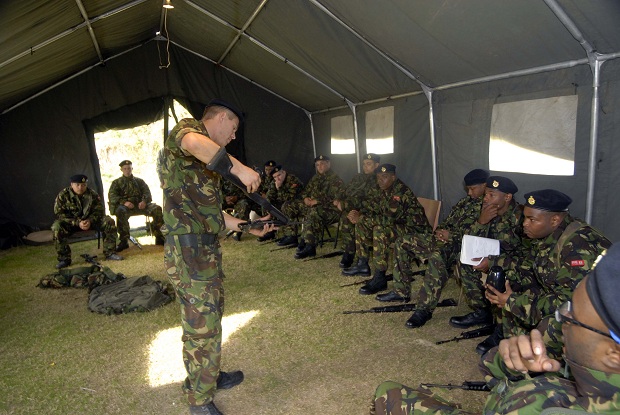 Targets are prepared for Live Firing later in the first week: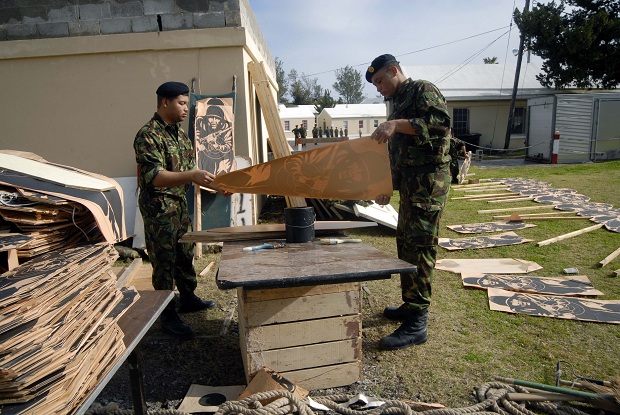 "Four days into Recruit Camp the soldiers are becoming accustomed to the long days. Platoon rivalries are emerging and platoons are actively competing to make the most noise during the morning Physical Training (PT) sessions," the spokesperson added.
"It is encouraging, if a little surprising, to note that in spite of an open invitation for the first time this year to attend any of the events on the training program, the Press – sometimes referred to as Bermuda's Watchdogs – have so far elected to attend only the standard VIP visits held throughout the Camp. It would appear that the sometimes-stated concern of "Draconian" methods, together with the BAD group's claims that harassment is occurring, are not viewed as legitimate, and that there is confidence in the public's mind that the Regiment's training methods are in fact in line with international best practices in a military setting."
Below Capt Chris Gauntlett [Adjutant and Public Relations Officer] delivers a lesson to the recruits on the "values and standards of the Regiment":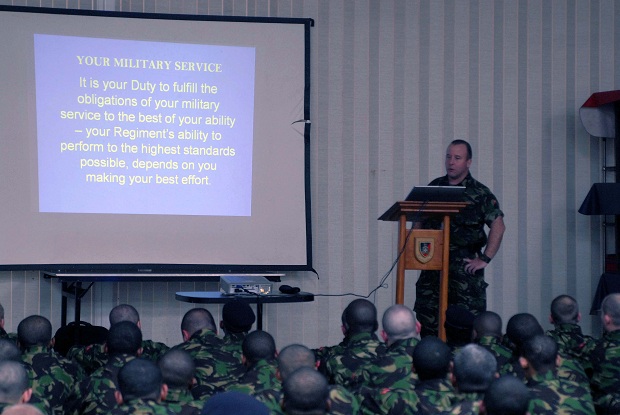 "Looking ahead to the Sports competitions – platoon volleyball and football competitions will commence on Friday night. The Inter-Section 5-Mile Road Race will be held at 3:50pm on Saturday. Friends and family are routinely found lining the race course cheering on the recruits; the race begins at Warwick Camp, goes left and over Camp Hill to Middle Road, along to Barnes Corner and then back to Camp."
"Daily barrack room inspections as well as sports, drill and team building competitions all help to determine who will be the Champion Platoon, Champion Section and Best Recruit. Those who have their own long-standing allegiances with 7 Platoon (Blue), 8 Platoon (Yellow), 9 Platoon (Red) or 10 Platoon (Green) already have a close eye on the groups to see if their predictions will come true."
Shown below is Governor Sir Richard Gozney, Commander-in-Chief of the Regiment (center), touring Warwick Camp along with CSM Trg Coy WO2 Rupert Lambert (far left), the Adjutant, Capt Chris Gauntlett (2nd from left), the Governor's ADC Maj Christian Wheddon (2nd from right) and OC Trg Coy Capt David Madeiros (far right)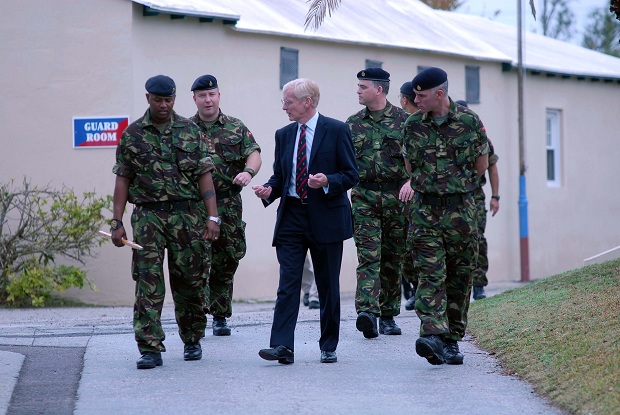 [Photos courtesy of the Bermuda Regiment]
Read More About