One of the gentleman involved in the New Year's day crash was airlifted overseas for further medical care at approximately 11am this morning [Jan 2].
At approximately 3:35am yesterday morning [Jan 1] the motorbike collided with a Police "paddywagon" on the corner of Court and Angle Street. Both the Police and bystanders indicate that the Police were chasing the bike through Angle Street when it crashed into a Police vehicle traveling south on Court Street.
Around twenty Police officers converged on Court Street after the collision, which saw the two men sprawled on the road receiving medical care before being rushed to King Edward Memorial Hospital via ambulance just before 4am. Both the bike and Police vehicle were damaged in the collision.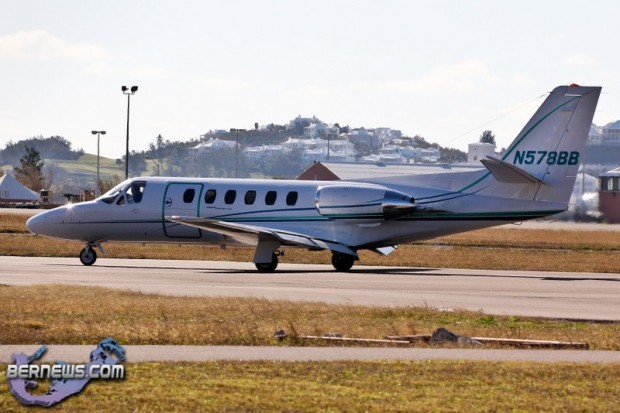 The injured man, who we understand is around 20 years old, was flown on a Cessna Citation Bravo plane [pictured above] to Laurence G. Hanscom Field in Massachusetts, accompanied by a family member. The flight landed at 1:30pm, and Bernews unofficially understands he was taken to Boston's Lahey Clinic, and that while his injuries are somewhat serious in nature and include multiple broken bones, they not life threatening.
As of 2:30pm today, the other man traveling on the bike is listed as stable on a general ward at King Edward Memorial Hospital, with injuries including a broken leg. An active inquiry into this incident is underway, and Police are appealing for any witnesses to this incident to contact them on 295-0011.
It was a busy Sunday morning for medical airlifts for the airport, as approximately 20 mins after this air ambulance left, a US Coast Guard helicopter carrying a seriously injured crew member from the Aegean Angel arrived.
Read More About
Category: Accidents and fires, All, News