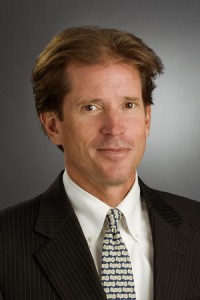 Connecticut Republicans have launched a grassroots effort to draft an outspoken supporter of Bermuda's off-shore financial services sector as their candidate to challenge for the US Senate seat being vacated by Independent Joe Liberman in 2012.
Current state Sen. L. Scott Frantz, a longtime visitor as well as a veteran competitor in the biennial Newport-Bermuda yacht race, invoked the island's success as an international business centre during a debate on Connecticut's 2009 budget — saying he understood why companies based there decided to reincorporate off-shore given the state's tax regime.
"Anecdotally, hundreds, if not thousands of firms have left the state of Connecticut for other states and even foreign countries," Sen. Frantz said, adding that "Bermuda will treat your capital, treat your families" in a welcoming fashion.
"Yes, it's a wonderful state. It has great beaches. It has Long Island Sound. It has great schools" but [hedge fund administrators and financial professionals] will not stay in Connecticut indefinitely if their taxes keep going up."
The online campaign to draft Sen. Franz to run for the vacant US Senate Seat next year "is going viral, with supporters of the politically well-connected and deep-pocketed state lawmaker promoting him on a new website as a fresh alternative to a stable of GOP old guard candidates", according to one Connecticut media report. And Sen. Frantz has said he isn't ruling the possibility out.
Sen. Frantz, 50, was elected to his second term in the State Senate in 2010. He represents the 36th Senatorial District which includes the communities of Greenwich, New Canaan and Stamford. He owns the 72-foot ketch "Ticonderoga", widely considered to be the crowning design achievement of celebrated American naval architect L. Francis Herreshoff.
Launched in 1936, she has recorded more ocean-racing victories, especially first-overall honours, than any yacht in history — and Sen. Frantz first glimpsed "Ticonderoga" as a teenager when the ketch was sailing from Bermuda to the US in the Tall Ship fleet assembled to celebrate the American Bicentennial
"During the 1976 Tall Ships Race on the way from Bermuda to Newport, 'Ticonderoga', sailed silently and gracefully past our family's comfortable but ungainly 'Sorrento' not ten minutes after the start," he has said. "To a 15-year-old, who at age six had already become intrigued with the great L. Francis Herreshoff and his favourite design, 'Ticonderoga' [pictured below], this was a seminal moment; I knew I somehow had to find a way to sail on her some day. Little did I know, 17 years later and through a whole series of coincidences, I would be putting my hand on her helm for the first time as her new owner and sailing her in numerous Bermuda races.
"She is now more than 70 years old and sails as beautifully as she did in 1936 right after her launch in Quincy Adams, Massachusetts, her birthplace. Others have said she is a museum piece, a vessel that should be carefully preserved as a quintessential example of yachting, racing and aesthetics of the era. We take a different approach. We love to race her, and we race her hard."
Read More About