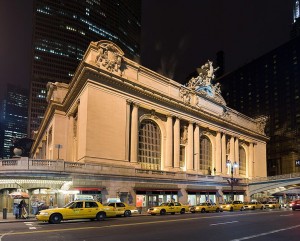 [Updated with video] The Bemuda Department of Tourism [BDOT] will be offering winter-weary commuters a full day of Bermuda-themed fun at Grand Central Terminal's historic Vanderbilt Hall in New York City tomorrow [Mar.30].
Performances from the Gombeys, live music, Bermudian food favorites, themed beverages and an evening rush hour Bermuda shorts fashion contest are all designed to raise awareness for Bermuda's warm-weather offerings and proximity.
There will be a "green-screen" dance competition that will encourage visitors to dance in front of a Bermuda scene of their choice with voting held on YouTube and other social media channels to pick the winner for a prize trip.
Additional prize trip opportunities will be offered throughout the day, including during a special live broadcast of WCBS-FM's popular "Dan Taylor Morning Show" from Vanderbilt Hall between 7.00 a.m. – 10.00 a.m.
Minister of Business Development and Tourism Patrice Minors said, "The New York metropolitan area is our number one market and we have a long history of welcoming visitors from this region.
"We thought it would be fun to remind people how close we are and provide a Bermuda experience for those thousands of commuters and visitors who go through Grand Central Terminal each day. It is one of America's true iconic locations and we're looking forward to helping our friends in this area to feel the love for Bermuda."
Since the beginning of March, the BDOT have been blitzing Atlanta, Baltimore and Boston promoting the upcoming AirTran Inaugural flight.
Read More About