Wednesday, March 23rd saw Tomorrow's Voices Autism Centre continue to strengthen the skills and knowledge of the public when it held its final monthly workshop in its year-long 2010/11 Training Institute.
The 2-hour interactive workshop, titled "Natural Environment Teaching (NET)", dispelled the myth that learning can only take place in front of a black board, and revealed how practitioners can use the natural environment to improve outcomes for youth with disabilities and other learning challenges.
The workshop approved by the Bermuda Educator's Council for professional development credits was held at the Bermuda College and saw over 25 eager persons participate. While Dr. Kimberly Mills, Executive Director of Tomorrow's Voices, opened the seminar, the workshop was facilitated by Senior Verbal Behaviour Therapist of Tomorrow's Voices, Mrs. Mona Crabtree.
She discussed in detail what the natural environment techniques were and had the attendees model the techniques. Tomorrow's Voices Assistant Verbal Behaviour Therapists Ms. Kara Richardson and Ms. Trina Davis-Williams assisted Mrs. Crabtree in demonstrating the hands-on implementation of the techniques through smaller break-out table-top sessions.
Pictured below: Tomorrow's Voices Senior Therapist Mona Crabtree working with workshop attendees in table top demonstrations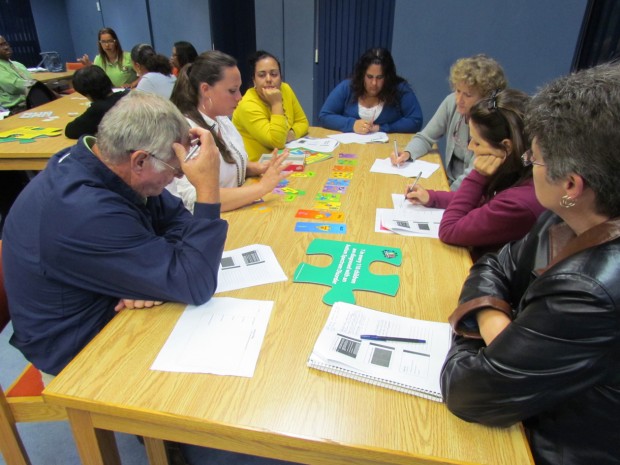 Mrs. Crabtree stated that "No matter their ability level, every child has the capacity to learn. Human nature often takes over when frustration sets in and we give up. But for children with disabilities and other learning challenges, Natural Environment Teaching provides alternative techniques to use to achieve success in learning." Mrs. Crabtree went on to say that "Within the 7 years I have been teaching and facilitating children, both able and able-challenged, I have never given up on one – they can all be taught, although they will all have different levels of progress."
Attendees at the workshop ranged from those in the education system to Bermuda College student to parents. One participant commented that the workshop was "Very well prepared and very clearly presented – the video clips were helpful to demonstrate techniques." Another participant remarked that the workshop was "Motivating, engaging, and very connected to real life situations."
At the conclusion of the workshop attendees had developed an appreciation for using non-traditional methods. Tomorrow's Voices Chairwoman, Mrs. Erica Smith, stated that "The workshop was another excellent opportunity for educators to learn the intricacies of children with learning differences and special needs and highlight that sometimes what one sees is not necessarily the whole picture. We appreciate the opportunity to partner with the Bermuda College and the Reading Clinic on bringing these learning initiatives forward."
Although this workshop concluded the 2010/11 Training Institute until the Fall, given the demand for more opportunities to gain skills with the learning differences population, Tomorrow's Voices will be holding a special workshop in April aligned with promoting Autism Awareness Month. This indebt 4- hour interactive workshop titled "Applied Behavior Analysis in the Classroom" will be held on Wednesday April 13th from 4 to 8 pm at the Bermuda College and will be facilitated by Ms. Marietta Janecky BCaBA, consultant from the internationally-renowned Carbone Clinic.
Anyone interested in attending future workshops should contact Dr. Kimberly Mills at 297-4342 or email tomorrowsvoices@northrock.bm
Read More About
Category: All