Last night [Apr.2] there was vigil at Victor Scott School in memory of Kimwandae "Biggs" Walker, who was gunned down in front of his two young children during a Good Friday kite flying event one year ago to the day. The event also called for peace in the community, and for a stop the increasing gun violence.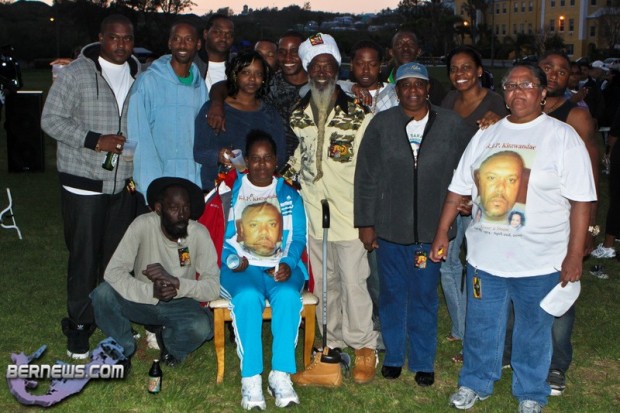 There appeared to be close to 200 people present, largely representing the section of the community that has been directly affected by the shootings. Environment Minister Walter Roban came out to lend his support, as did Victor Scott Principal Valerie Williams.
In addition to Kimwandae Walker's family, present were the the immediate family of murder victims including Colford Ferguson, Gary "Fingas" Cann, James 'Junior" Lawes, and Shaki Crockwell.
Gary Cann's mother Ruby Creary spoke with Bernews, saying that this revenge killing must stop, and people should understand that God will take care of evil. Her son was murdered in 2009, and she said every murder that happens is like reliving her son's murder. Shaki Crockwell's father Danny also said this has to stop, and asked how many of our black brothers have to die, and called for the community to come together. Mr Crockwell's son, a national level footballer, was gunned down in 2007. Both murders remain unsolved.
Candace Furbert performed her version of Barrington Levy's Vice Versa Love, receiving a warm reception from those in attendance. A clip of her singing is below, set to various photos from the vigil:
Kimwandae Walker's mother Michelley Walker, wearing a custom t-shirt in memory of her son, brought Easter Lilies to the vigil and placed them in the same area her son had been shot down one year ago in front of her two little grandchildren.
Mrs Walker has previously spoken out saying, "One moment he was frolicking with his children, teaching them to fly kites and generally enjoying his time with them. The next moment he was running for his life as he was being chased by persons with a gun determined to end his life – and this they did, while his children ages 9 & 4, watched in horror. They will forever have the memory of seeing him shot down like an animal in their hearts and their minds. To see the pain on their faces breaks what's left of my heart."
The evening started with a moment of silence for all victims taken by gun violence, while attendees lit their candles. Scott Smith opened with a powerful prayer, then Candace Furbert performed the first of her two solos.
Carlton Simmons from Youth on the Move spoke, saying, "It bothers me that Bermuda has been so moot about this issue and I say that, if Bermuda found a spider that existed in Bermuda and bit 10 people a year, and they died, they would hunt that spider down all throughout the country." Mr Simmons speech was followed by one from Danny Crockwell, the father of murder victim Shaki Crockwell. Lillian Robinson then performed a dance, video below:
Scott Smith read a poem written by Angela Smith, for Mr Walker's mother , before Desmond Smith, the brother of Colford Ferguson who was murdered earlier this year, performed a song he wrote after his brother's death "Love U Brother."
To date, no one has been brought before the courts for Mr Walker's murder, and the case remains open. Anyone with any information is encouraged to contact the Serious Crime Unit on 295-0011 or the independent, confidential Crime Stoppers Bermuda hotline on 800-8477 or via their website, where tips can be left anonymously.
The event was organised by the group 'Colfords Family Against Violence', which was formed after 29-year-old Colford Ferguson was murdered last month. The family said they decided to take a stand to put an end to the senseless violence on the island. This is the fourth vigil the group has organised, following the Colford Ferguson Vigil, the James "Junior" Lawes Vigil, and the Jahmiko Leshore Vigil. The turnout at each vigil has been steadily increasing, and the organisers have extended an invitation to the wider community to attend upcoming vigils.
This evening [Apr.3] there will be a vigil at 7:30pm at Woody's in Sandys, a date which coincides with the birthday of Freddy Maybury, who was murdered on June 14, 2010 in the same location. Mr Maybury, a self employed plumber, was a father of two and the mother of his oldest son passed away in March 2010 from cancer, so the murder left the young teen with no living parents, having lost both in a space of three months.
Read More About