Close to one hundred people gathered last night [Mar.26] on Hermitage Road in Devonshire to pay tribute to Jahmiko Leshore, and to call for an end to all gun violence.
On March 1st, 2011, Mr Leshore was leaving a residence in the Boundary Crescent area of Devonshire – yards away from where the vigil was held – when he was shot multiple times, sustaining mortal wounds. He would have turned 27 years old yesterday.
The vigil started, and ended, with Brother Ritchie playing Barrington Levy's 'Vice Versa Love', with the passage to all the rude boys put down all your guns, the only ammunition we need is love drawing "lighters up" from many present.
Mr Leshore's friends were out in full force, with almost two dozen young men from the Hermitage Road Family in attendance. With photos of Mr Leshore clipped to their jackets and gold chains, the young men studiously held their candles and participated in the event.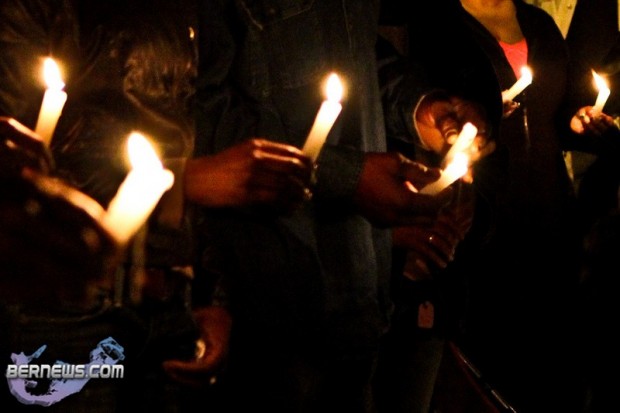 Mr Leshore's girlfriend, who was pregnant at the time of his murder, recently welcomed their son into the world. The baby, only a few days old, took in the proceedings from a nearby car, drawing a stream of admirers to take a peak at him.
Thanks was given during the vigil for his son coming into the world, with those present asked to pray for the baby and his mother Tashae Brown.
Candles flickered in the wind as community activist Scott Smith welcomed everyone, and said a word of prayer. Two songs were expressed via sign language and Grejai Smith read a scripture, before brief speeches by Dr Stanley James and community activist Gina Spence.
The families of other murder victims attended, with both the Spence/Lawes and Ferguson/Smith family coming to lend their support. The Bermuda Police Service maintained watch over the vigil, with thanks extended to them at the end for their presence.
Five people, including two females, have been arrested in connection with Mr Leshore's murder, however no charges have been laid, and the case remains open. Anyone with any information about the murder of Jahmiko Leshore is encouraged to contact the Serious Crime Unit on 295-0011 or the independent, confidential Crime Stoppers Bermuda hotline on 800-8477.
The event was organised by the group 'Colfords Family Against Violence', which was formed after 29-year-old Colford Ferguson was murdered last month. The family said they "decided that we as a community need to take a stand and come together to put an end to this senseless violence that is plaguing our small island."
This is the third vigil the group has organised, following the Colford Ferguson Vigil and the James "Junior" Lawes Vigil, and two more are planned.
Next Saturday [Apr.2] there will be a vigil at Victor Scott School field at 7:30pm, in memory of Kimwandae "Biggs" Walker, who was gunned down in front of his two young children during a Good Friday kite flying event last year.
His mother previously spoke out saying, "One moment he was frolicking with his children, teaching them to fly kites and generally enjoying his time with them. The next moment he was running for his life as he was being chased by persons with a gun determined to end his life – and this they did, while his children ages 9 & 4, watched in horror. They will forever have the memory of seeing him shot down like an animal in their hearts and their minds. To see the pain on their faces breaks what's left of my heart."
The following day [Sunday, Apr.3] there will be a vigil at 7:30pm at Woody's in Sandys, a date which coincides with the birthday of Freddy Maybury, who was murdered on June 14, 2010 in the same location.
Mr Maybury, a self employed plumber, was a father of two and the mother of his oldest son passed away in March 2010 from cancer, so the murder left the young teen with no living parents, having lost both in a space of three months.
The organisers have extended an invitation to the everyone in the community to attend the upcoming vigils.
Read More About