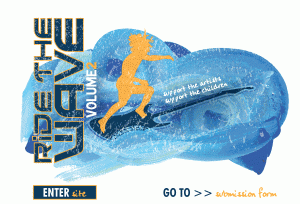 With this week's launch of "Ride The Wave," Volume 2, Bermuda's singers and musicians are once again demonstrating their hearts are as big as their talent.
The 37-track double CD — featuring a wide array of Bermudian performers including Troy Anthony, Mishka and  Joy T. Barnum –will be officially launched at Harbour Nights in Hamilton on Wednesday [May 18].
"Part proceeds from the sale of Volume 2 will, once again, go to The Coalition for the Protection of Children," said producer Tony Brannon.
"You may recall that Volume 1 – released in June, 2010 and sponsored in full by the Freisenbruch-Meyer Group — raised $40,000 for The Coalition, in particular for their 'healthy breakfast for every child' in-school programme.
"Arguably, Bermuda is besieged with certain social and economic problems and if the community at large is able to offer support for the island's lesser privileged children then maybe, just maybe, we can begin to turn the tide for the future – or at least have a very beneficial impact on the lives of many."
Zenji San's "Die By Di Gun" From "Ride The Wave", Volume 2
Mr. Brannon said "Ride the Wave", Volume Two — again backed by Freisenbruch-Meyer – offers music fans a "great deal" in terms of both content and variety: for $25 people get a two CD package with 37 songs organised thematically between reggae, soca, pop and rock.
"More importantly, for every CD purchased a portion of the proceeds will go to benefit Bermuda's needy children through the auspices of The Coalition," he said . "For anyone who has seen or will be seeing Lucinda Spurling's new documentary "Poverty in Paradise: The Pride We Pay" — which was sponsored by The Coalition — we believe you will agree that this would be a very worthwhile cause."
The 2010 release of Volume 1 received overwhelming support from Bermuda's retailers and, at last count, has "shipped" over 3,100 copies.
"Our ambition for Volume 2 is to top the 5,000 mark which could very well put it at the 'top of the charts' for the sale of Bermuda music (in Bermuda) by either individual artists or as acompilation," said Mr. Brannon.
"We believe there is a lot of music on Volume Two will cater to the broadest possible range of musical tastes," said Mr. Brannon. "Our artists range from 15 to 64 years of age and their styles include everything from reggae to folk to alternative.
A mixed sample of tracks from the Double CD is below:
"We would like to thank all Bermuda and all Bermuda visitors in advance for their support and look forward to surpassing last year's sales with our second release," said Mr. Brannon.
"Ride the Wave," Volume Two will be on sale after Wednesday at Gorham's, Brown & Co, GIibbons Co., Lesisure Time, Island Shop, Riihiluoma's, Lemon Tree, Cutting Room, The Music Box, Somerset Pharmacy, Davison's, Rock Island Coffee, A.S. Cooper's, Portofino's, Strands, Paradise Gift Shop and The Body Shop.
"We look forward to adding other points of sale and encourage other retailers to contact us if interested in selling 'Ride the Wave' CDs," said Mr. Brannon.
Read More About
Category: All, Entertainment, Music, News