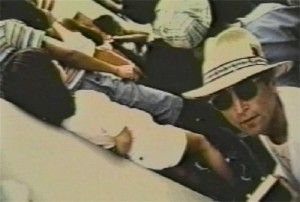 In his 1971 anthem for peace "Imagine", John Lennon sang: "You may say that I'm a dreamer/But I'm not the only one/I hope someday you'll join us/And the world will live as one …"
Now the Ride The Wave  charitable group is hoping all of Bermuda's amateur singers will join them in a salute to the late performer and peace activist.
Bermudian singers are being invited to submit a recording of  one of his works  in order to win a place at auditions for its upcoming John Lennon tribute CD. Those singers chosen to audition will be asked to perform  "Imagine" at the Chewstick neo-griot lounge on December 17.
A panel of judges will select the winners who will then  be recorded for inclusion on the John Lennon Bermuda tribute CD.
"We are looking for the voices of Bermuda to be part of the John Lennon CD tribute being released on June 21, 2012 as part of the celebration of John Lennon's time in Bermuda [he is pictured above on Front Street with son Sean during the 1980 Queen's Birthday Parade] and the unveiling of the Graham Foster Double Fantasy sculpture at the Masterworks Museum of Bermuda Art," said Ride The Wave organiser Tony Brannon.
"It doesn't matter if you sing in the church choir, the school choir or the shower — we want to hear from you. There is such a wealth of musical talent in Bermuda, we want to ensure anyone who wants to be a part of this tribute gets the opportunity to do so.
"Send us a CD of your voice or an mp3 to tony@bermuda.com. We will select the finalists. There will be an audition at Chewstick in December and all singers who are short-listed will be asked to sing 'Imagine'."
The opening track on his album 1971 "Imagine", in 2004 "Rolling Stone" magazine ranked "Imagine" at number three in its list of "The 500 Greatest Songs of All Time."
Jazz legend Herbie Hancock performed "Imagine" with India Arie, Kristina Train, and Greg Phillinganes at the 2010 Nobel Peace Prize Concert on 11 December. This recording won a Grammy award for Best Pop Vocal Collaboration in February, 2011.
John Lennon Sings "Imagine"
Established Bermuda performers and bands have already been invited to submit demos of their arrangement of a John Lennon song — either solo material or from his time with the Beatles — to Mr. Brannon.
So have international acts who performed in Bermuda.
The deadline for submissions from Bermuda and international professionals is December 31.
Former Beatle  Mr. Lennon sailed to Bermuda in the summer of 1980 in what has been called a "voyage of self-discovery", later renting a house here and writing or completing all of the songs included on his last album "Double Fantasy" — which took its title from a local flower — and the posthumously released "Milk & Honey."
Among the tracks he wrote on the island was the classic  "Woman",  which Mr. Lennon described as not just a love song to his wife Yoko Ono but also as an anthem to the female presence in the world.
"Woman" was the first single released after Mr. Lennon's December 8, 1980 murder. Described by one critic as "the breathlessly excited audio postcard Lennon recorded for Yoko when he was vacationing and demo-ing in Bermuda", the song topped the charts on both sides of the Atlantic in early 1981.
"The song 'Woman' came about because, one sunny afternoon in Bermuda, it suddenly hit me what women do for us. Not just what my Yoko does for me, although I was thinking in those personal terms … but any truth is universal," said Mr. Lennon in one of his last interviews.
"What dawned on me was everything I was taking for granted. Women really are the other half of the sky, as I whisper at the beginning of the song. It's a 'we' or it ain't anything. The song reminds me of a Beatles track, though I wasn't trying to make it sound like a Beatles track. I did it as I did 'Girl'' many years ago — it just sort of hit me like a flood, and it came out like that. 'Woman' is the grown-up version of 'Girl'."
Bermuda photo courtesy of Sean Lennon, copyright Yoko Ono Lennon
Read More About
Category: All, Entertainment, Music