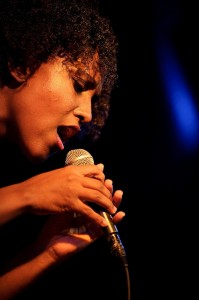 Bermudian performers Joy T. Barnum and Taylor Rankin recently returned to the island after earning international exposure — and widespread acclaim – in Europe where they appeared as supporting acts for Bermudian superstar Heather Nova.
Vocalist Miss Barnum and singer/violinist Mr. Rankin played at selected dates on the Bermudian indie/folk rocker's European tour.
Mr. Rankin opened the first half of the shows, before joining Heather Nova on her songs "Gloomy Sunday" and "I Miss My Sky. The second half of the shows were opened by the soulful Miss Barnum and her guitarist who was also invited to sing backing vocals with Heather Nova on "Singing You Through".
Heather Nova's "Special Acoustic Evening Tour" kicked off in Belgium on October 1 and ended in Paris on October 30. There were a total of 25 shows in Belgium, the Netherlands, Switzerland, Germany and France along with two additional charity gigs in German hospitals.
"Heather has been an inspiration to the local artists ever since she shot to stardom with her pitch-perfect, smooth folksy/pop style," said the Chewstick Foundation shortly before the tour got underway. "A supporter of both the arts and the environment, she has also been a great supporter of Chewstick and comes out and helps where ever and when ever she can.
"This is an opportunity of a lifetime for Joy and Taylor who are no stranger to the stage. Each of them have been performing since they were young  and are regular faces at Chewstick, and virtually every stage or event taking place locally and even beyond. Taylor's eclectic fusion of classical violin, hip-hop beat-boxing and reggae make him quite an incredible experience to behold. While Joy's powerful pipes with rock, opera and soul influences are a whole different lane but equally as exciting to witness."
Miss Barnum — who has appeared on stage with soprano Kathleen Battle, the Aeolians, and a variety of rock bands –was first recognised as one of Bermuda's up-and-coming talents when she was first runner-up in Bermuda Idol 2005. Later, she was invited to be an opening act for Yolanda Adams and Smokey Norfu and would go on to open for Seal and Patti La Belle at two consecutive annual Bermuda Music Festivals.
"She sounds like Sam Cooke but with legs all the way up to her neck," says music producer and radio host Thaao Dill. "She sings like she's on fire and she's fine with being on fire. She doesn't want anybody to put her out."
Aside from his Chewstick appearances, Mr. Rankin — whose music is a unique synthesis of funk, reggae, hip hop, gospel, pop, rap, jazz and blues — has previously opened for such acclaimed international acts as Wyclef, Mary J. Blige and Erikah Badu.
Miss Barnum and Mr. Rankin are expected to be among the Bermudian guest performers appearing with Heather Nova at her upcoming Bermuda Festival appearance. She is donating her fee from that show to a Chewstick Foundation outreach initiative aimed at combating gang violence on the island.
Miss Barnum is shown below performing "Singing You Through" with Heather Nova.
Violinist Taylor Rankin is shown here performing with Ms Nova on the melancholy number "Gloomy Sundays."
Read More About
Category: All, Entertainment, Music, News